GULLANE, Scotland — From behind the 18th green, Paul Azinger stared out toward a golf course where he nearly won a major title, where so many greats of the game have carved their names on the claret jug.
Sure, it's a classic links layout — right by the sea, filled with inexplicable humps in the fairways, terrifying bunkers stuck in the strangest of spots and knee-high grass ready to punish a wayward shot.
---
SEE ALSO: British Open 2013: Tee times, pairings for first two rounds
---
But Muirfield is different.
There are all those quirky elements that make it worthy of a British Open. There's just — uhhh, how should we put this? — not TOO many of them.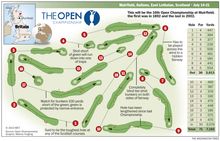 "It's not a luck-fest out there," Azinger said Monday, as the world's top golfers arrived en masse to prepare for the third major of the season. "If you make the ball do what you want it to do, you'll play well."
Maybe that's the reason the roster of winners looks more like a who's who of the sport.
Harry Vardon. Walter Hagen. Gary Player. Jack Nicklaus. Lee Trevino. Tom Watson. Nick Faldo. Ernie Els.
And let's not forget Harold Hilton, James Braid and Henry Cotton.
Of the 13 players to win the Open at this course east of Edinburgh, 11 are enshrined in the World Golf Hall of Game (and you can make a pretty strong case that another, Ted Ray, should be). Only Alf Perry looks a bit out of place on this elite list, and even he was a three-time member of Britain's Ryder Cup team in the 1930s.
Not a stiff in the bunch.
"That's not a fluke," Faldo said. "You have to have a good mind game. You have to know where you're going to land it, where the next bounce is and where the run is."
And, of course, have the ability to pull it off.
Faldo recalled his second victory at Muirfield in 1992, with Fanny Sunesson on the bag.
"That's what we worked out so well," he said, "where to land the ball 20 yards short of the green, which way it would kick, and obviously where it would stop. That's part of the calculations. But you've got to land the ball from A to B first. And that has to be a solid shot. If that's a mis-hit, the ball doesn't react close to what you intend. You look at all those guys, we all hit it pretty darn solid in our era."