One of the two men accused of murdering British soldier Lee Rigby in London this summer is believed to have been injured in an attack in Belmarsh prison.
The prison service confirmed to The Guardian that Michael Adebolajo was attacked, but did not say whether he suffered injuries or that he had been targeted by prison officers, as earlier reports indicated.
"The police are investigating an incident that took place at HMP Belmarsh on 17 July. It would be inappropriate to comment while the investigation [is] ongoing," a spokewoman said.
The BBC reported that the 28-year-old prisoner was receiving treatment after losing two teeth.
Mr. Adebolajo is accused of hacking Rigby to death with kitchen knives and a meat cleaver near Woolwich barracks on May 22 in what was deemed an act of terror. Michael Adebowale, 22, has also been accused of the attack.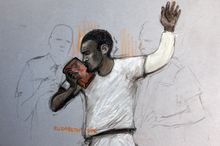 The trial is scheduled to begin on Nov. 18, The Guardian reported.
Mr. Adebolajo faces further charges related to the attempted murder of two police officers, The Guardian said.