Virginia Republicans started the 2013 gubernatorial campaign with ambitious plans to paint Democratic nominee Terry McAuliffe as an ethically challenged Washington money man tied to many of the Clinton-era scandals.
But a long-running graft investigation of Gov. Bob McDonnell coupled with a prosecutor's report Thursday that confirmed Attorney General Kenneth T. Cuccinelli II accepted and failed to disclose gifts from a wealthy businessman have cut into the GOP advantage on ethics that Mr. Cuccinelli had hoped to leverage in his bid for the state's executive mansion.
The report cleared Mr. Cuccinelli of criminal wrongdoing, but its findings raised questions about his judgment and added to a growing picture that Virginia Republicans' top two officials sought to cash in on their jobs with gifts from those with business before state government.
"It certainly has made it more difficult for Cuccinelli to raise the ethics and character issues that he wanted to," said retired Virginia Commonwealth University political science professor Bob Holsworth.
With that, both parties will be slugging out ethics questions in the fall on a playing field made more level by recent developments.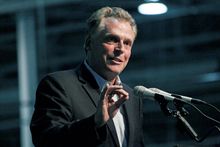 "The Democrats are going to talk about it as a way to press the case against Republicans in front of the public," said Quentin Kidd, political scientist at Christopher Newport University.
The report issued Thursday by Richmond Commonwealth Attorney Michael N. Herring found "no evidence" Mr. Cuccinelli had violated the law through his receipt of gifts from Jonnie R. Williams Sr., CEO of nutritional supplement maker Star Scientific Inc., or through failure to make timely disclosures of those gifts as well as his financial holdings in the company.
"Although one cannot help but question whether repeated omissions of gifts from Williams are coincidence or a pattern reflecting intent to conceal, the disclosure of several other gifts and benefits from Williams in his original statements suggests that the Attorney General was not attempting to conceal the relationship," Mr. Herring's report states.
The report noted that Mr. Cuccinelli in April updated his economic interest statements to reveal a $3,000 vacation stay and a $1,500 Thanksgiving retreat and dinner at Mr. Williams' Smith Mountain Lake vacation home. Statements from 2009 to 2012 were also updated to reflect a number of gifts as well as stock ownership in Mr. Williams' company.
The updates were disclosed amid reports that the businessman plied the McDonnell family with gifts and, in return, was allowed to use the Executive Mansion and the governor's office to gain credibility for his company.
Mr. McDonnell has denied any wrongdoing and noted that he is not legally required to disclose gifts to his family members.
Mr. Herring's report also concludes that Mr. Cuccinelli did not promote, support or assist Star Scientific while he had a financial stake in the company.
"This review vindicates what I have said all along," Mr. Cuccinelli said in a statement issued Thursday in response to the report. "There was no legal requirement to refer my own filings to a commonwealth's attorney to review, but I did it because I wanted to be completely transparent with the public."
Although the report clears Mr. Cuccinelli criminally, it hardly brings the matter to a close.
"The tone of the report still leaves open the question of: Was this advisable? Was this wise? Does it raise questions in peoples' minds as to his behavior?" said Carl Tobias, law professor at the University of Richmond School of Law.