Mariano Rivera will retire after this season as perhaps the finest closer in baseball history. With a dozen All-Star appearances and more than 630 saves, he is as much a certainty for the Hall of Fame as a player can get.
He began his career as a starter. That's right, the game's best closer started 10 games during his first season with the New York Yankees in 1995.
With the possible exception of the Washington Nationals' Drew Storen, no one really grows up wanting to be a relief pitcher.
Storen, the anomaly, never made a start in two seasons at Stanford and hasn't made one in the Nationals organization. The other six relievers on the Nationals' current roster all have starting experience, including closer Rafael Soriano. Storen, it seems, is part of a very, very small minority.
Starting, Nationals pitching coach Steve McCatty said, "always has been the Cadillac job in the big leagues. Everyone wants to do it. That's where most of the glory is and, if you can be a good starter, that's what you want."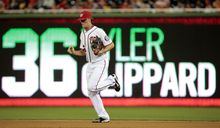 But you can't always get what you want. Someone has to pitch in relief.
There are approximately 210 relief pitchers in the major leagues and to call all of them failed starters wouldn't be accurate. Sure, some of them fit into that category. Relievers are made in other ways, too. Some of it is a decision made by management. A player's stuff would work better in the bullpen. Some of it is by circumstance. And some of it is, quite frankly, an accident.
The Nationals as they are currently constructed have at least one who fits into each category.
Tyler Clippard was converted because the bullpen better suited his style. Tough to argue with the results. Craig Stammen pitched well enough to earn a spot on the team, but there was no room in the rotation. To the bullpen he went, and there he blossomed. Ian Krol faced an innings limit as he came back from an injury suffered in the minor leagues. He went to the bullpen to conserve those innings and the results have been staggering.
None was necessarily a failure as a starter. All have been very successful as a reliever.
"Those guys," McCatty said, "have fit in extremely well in the roles we have put them."
***
Clippard, 28, started six games for the Yankees in 2007 and two for the Nationals in 2008 after an offseason trade. He posted a 4-2 record. But he also had a problem staying in games. He ran up high pitch counts. Even as a reliever, his innings often aren't clean even though he's mostly been effective. In 2007, he only went more than five innings once and that was just for six. In one five-inning game, he threw 98 pitches.
He was called back to the Nationals in June 2009 and he's been a bullpen fixture since. He was the winner of the All-Star game in 2011. He had 32 saves last season. He was 6-1 with a 2.34 earned run average through 82 games this season.
Yeah, relieving suits Clippard.