Monday felt like a second Opening Day for the Washington Nationals. Home to a preseason World Series favorite whose first three months were marked by inconsistency, injury and underachievement, the clubhouse was abuzz on the first day of July.
One day after they reached the season's mathematical midpoint, their 20-year-old phenom, Bryce Harper, returned to the lineup after a 31-game stay on the disabled list and homered in his first at-bat. Catcher Wilson Ramos is due back this week as well.
For the first time since April 14, the Nationals are as close to having their full complement of players as they will likely get all year. An offense that has languished among the league's worst all season posted 23 runs in its previous two games heading into Tuesday night's contest against the Milwaukee Brewers.
"Everybody knows we've got some work to do," manager Davey Johnson said, with his team six games behind the Atlanta Braves in the National League East standings. "Let's get down to business. Let's get serious."
The 2012 Nationals barreled through their 98-win season swatting back all comers and leading the NL East almost from the season's first day until it's last. That is not common, nor is it easy.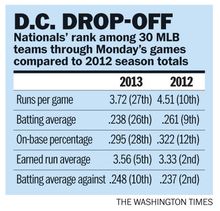 "Every team would want to be in first place and be 10, 15 games over .500," said third baseman Ryan Zimmerman. "That's not always how it works."
And in the season's final 20 games last year, they went 10-10. Even the night they clinched the organization's first division championship and soaked Nationals Park in champagne, they lost. A devastating early exit from the playoffs followed two weeks later.
So the Nationals are looking at this season in a different light.
"It seems like the underlying tone [after losses] is always like this gloom and doom because we're .500 and not in first place," right fielder Jayson Werth said. "It's always like, 'Oh God, how do you bounce back from a loss?' I mean, I like where we're at.
"I don't mind being five or six games back and playing .500 baseball at the [upcoming All-Star] break. I've played on teams that have won the World Series doing that. I guess I'm a little more optimistic than most, maybe."
Recent history jibes with Werth's feeling, and the theory that most players hold when it comes to the playoffs: It's not always the best team that wins, but the hottest.
Of the past five World Series champions, only one was in sole possession of first place in its division at the All-Star break, and that was Werth's 2008 Philadelphia Phillies, who held a half-game lead over the New York Mets. Only one, the 2009 New York Yankees, was more than 10 games above .500 at the break. The past three champions were only six games above that sea-level mark.
"It's all about timing," center fielder Denard Span said. "We're hanging around right now and we just hope that we get Bryce back, get everybody fully healthy and going. Hopefully, yeah, we'll get hot at the right time. You don't want to peak too soon, but you don't want to just keep saying, 'We've got plenty of time,' because before you know it it'll be Oct. 1 and we'll be going home."
What the Nationals also have in their favor, outside of health and an offense that the law of averages says cannot continue to underachieve the way it did in the first half, is again one of the league's best pitching staffs.
The Nationals have the fifth-best earned run average in the National League, but their strength lies in the starting staff — they are the only club in the NL with three starters possessing ERAs under 3.10 and among the top 18 in that category.