CNN makes unfortunate royal baby ticker mistake: 'Child pronounced dead on the scene'
As the world waited with baited breath to hear news of the royal birth Monday, CNN made an unfortunate ticker mistake that caused the Twitterverse to erupt with questions.
Under the headline, "Duchess Catherine gives birth to a son," reads the headline, "Child pronounced dead on the scene."
"CNN did a fine job on the royal birthing, but one badly place chyron is all that'll be remembered," Washington Times columnist Joseph Curl tweeted.
"It just takes one rogue intern with a keyboard to put the entire world in a state of panic," another person wrote.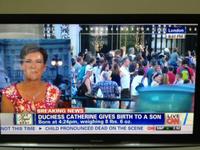 © Copyright 2014 The Washington Times, LLC. Click here for reprint permission.
About the Author
Jessica Chasmar is a continuous news writer for The Washington Times. Previously, she was part of the start-up team for The Washington Times' digital aggregation product, Times247. She can be reached at jchasmar@washingtontimes.com.
Latest Stories
Latest Blog Entries