There's a nice rivalry developing across the Potomac as the Washington area continues its sizzling summer as a hotbed of chess activity.
Northern Virginia just finished hosting the D.C. International and a very successful World Open, which attracted more than 1,200 players to its temporary site in Arlington earlier this month.
Now the attention shifts to Maryland, where the U.S. Cadet Championship for the top American players under 16 kicked off over the weekend. That will be followed immediately by a full slate of Maryland Chess Association events for its own Washington International Chess Festival, which will include a rapid and blitz event, a weekend Swiss tournament, the second Razuvaev Memorial men-vs.-women team match, and the six-day Washington International open tournament that starts Aug. 5.
Three-time U.S. champion GM Gata Kamsky won the inaugural Washington International last year, and a full complement of grandmasters are likely to be in the field again next month. For information on all the upcoming MCA events, to be held at the Rockville Hilton in Rockville, check out the association's website at mdchess,com.
The Cadet winner gets a four-year scholarship to collegiate chess powerhouse University of Maryland-Baltimore County, and the top three finishers receive free entry into the International. Texas NM Ruifeng Li was one of the early leaders on the strength of his scintillating attacking win over fellow master Michael Brown of California. A momentary defensive lapse by Black here leads to a deadly mating attack.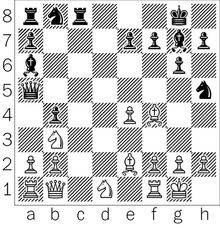 Brown holds his own on the Black side of a Breyer Ruy Lopez up until 18. cxd4 d5 (the freeing move that typically gives Black equality in this line) 19. exd5 Bxd5 20. Nce5, when 20… Bd6 21. Bd2 Bxf3 22. Qxf3 Nxe5 23. dxe5 Bxe5 gives the second play a perfectly playable game.
But Black gets careless with his loose knight on e7 and Li makes him pay: 20…Nf8? 21. Ba4! Rd8 (Black might even consider here just giving up the exchange with 21…Ne6 22. Bxe8 Qxe8 23. Qd3 h6, with hopes his bishop pair generate some drawing chances) 22. Nxf7! Bxf7 23. Qxe7 Bd5 24. Bh6!, and White has not only won a pawn but has a raging mating attack to boot.
With Black's queen and rook playing no role iun the defense, the rest is a rout: 24…Nh5 (Ng6 24. Qc5 Rd5 25. Qc2 keeps White's edge) 25. Qg5! Bf7 26. Re7 Ng6 27. Rxf7! gxh6 (Kxf7 28. Ne5+ Nxe5 29. Bb3+ Ke8 30. Qxe5+ Kf8 31. Qf5+ Ke7 32. Qf7+ Kd6 33. Qe6 mate) 28. Qxh6! Kxf7 29. Ng5+, and the Black king has no place to hide as the kingside collapses.
The finale: 29…Kf6 (flight is not an option; e.g. 29…Ke7 30. Qxh7+ Kd6 31. Qxg6+ Kd5 32. Bb3+ Kxd4 33. Qf5 Qb6 34. Nf3 mate) 30. Nxh7+ Ke7 31. Qxg6 Rd5 32. Ng5, and Brown resigned ahead of 32…Nf6 33. Qf7+ Kd8 34. Qf8+ Ne8 35. Qxe8 mate.
–
There's a nice write-up of Hungarian-American grandmaster, author, problemist and endgame expert extraordinaire Paul Benko on the Chessbase.com website, ahead of Benko's 85th birthday July 28. Benko was Hungarian national champion at the age of 20, defected to the United States in 1958, played in two world championship candidates' tournaments, and played no small part in the history of the game by generously giving up his slot in a third world title cycle in 1970 in favor of one Robert James Fischer.
As a player, Benko labored like many U.S. stars of the period in Fischer's giant shadow, but he was capable of some world-class play of his own, including a brilliant takedown of fellow GM Arthur Bisguier in the 1963-63 U.S. championship tournament in New York City. (Benko would finish third at 7-4, as Fischer was fashioning an unprecedented 11-0 sweep).
Bisguier badly mishandles the White side of this Grunfeld Moscow System — much more solid was 12. Ne3 Ba6 13. Nc4 Qb5 15. 0-0 with equality — but appears to buy a little time to regroup after 15. Qb1 Nh5! 16. Nb3 (see diagram; 16. Bxa6 Qxa6 17. Be3 Bxd4 18. Bxd4 Nf4 19. Be3 Ne2+ 20. Kh1 Rc1! 21. Bxc1 Nc3 22. Ne3 [bxc3?? Qxf1 mate] Nxb1wins decisive material for Black), as the Black queen is under attack and will have to retreat.
But Benko instead charges forward with the inspired (and very Fischeresque) 16…Nxf4!! 17. Nxa5 Nxe2+ 18. Kh1 Rc1, trapping the queen. After 19. Qxc1 Nxc1 20. Rxc1 Bxf1 21. Rc8+ Bf8 22. Ne3 Ba6 23. Rd8, Black still has a bit of work to do unwinding his queenside, but Benko again shows impressive technique in bringing home the win.
Black keeps it simple with 23…e6 24. Ng4 (Nc6 Nxc6 25. Rxa8 f5, and the two bishops should dominate the lone White rook) Kg7 25. e5 Be7 26. Re8 Bg5 27. h4 Bxh4 28. g3 Bb5! 29. Nf6 (Rc8 Bd7 30. Rc7 Bd8 31. Rc5 Na6 and wins) Bxe8! 30. Nxe8+ Kf8 31. Nc7 Bd8, and Bisguier resigns. After 32. Nxa8 Bxa5, White is down a piece and his knight can't escape the corner.