President George H.W. Bush has shaved his head to stand in solidarity with 2 year-old Patrick, the son of a member of his Secret Service detail, who is undergoing treatment for leukemia.
"41 poses with the members of his Secret Service detail who have also shaved their head to support little Patrick," the former president's office tweeted Wednesday with a photo of Bush with a bare head holding Patrick while sitting in his wheelchair.
Mr. Bush's spokesman then tweeted a photo of 27 cue-balled men, including the Republican, sporting black sunglasses with the little tike.
Agents have organized a motorcycle benefit next month to help raise money for Patrick's medical bills, a cause to which Mr. and Mrs. Bush have already donated, Time Magazine reported.
The Bushes lost their first daughter, Robin, to leukemia at the age of four 59 years ago.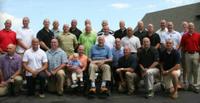 © Copyright 2015 The Washington Times, LLC. Click here for reprint permission.