The House approved an amendment to the fiscal 2014 defense appropriations bill this week that would block the Obama administration's plan to cut U.S. nuclear forces under the 2010 U.S.-Russia New Strategic Arms Reduction Treaty.
The amendment, drafted by Rep. Mike Rogers, Alabama Republican and chairman of the House Armed Services subcommittee on strategic forces, states simply that no U.S. funds will be spent to reduce nuclear forces under New START.
Mr. Rogers said approval of the amendment reflects congressional concerns about the Obama administration's disregard for current laws.
"Too often, this president acts as if he is above the law," Mr. Rogers said in a statement. "He ignores the law when it comes to his health care law; he ignores the enforcement of immigration laws; and now he is applying this approach to defense policy."
The White House had no immediate comment on the amendment.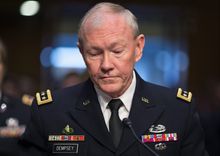 In floor remarks, Mr. Rogers said the president's policy "appears to be tearing down our nuclear deterrent, which is America's ultimate security guarantee."
The president is seeking a "blank check" from Congress to implement the New START treaty without any questions being asked, he said.
"This amendment will force the President to follow the law and hold him accountable if he expects one dime of the American people's money to be appropriated," Mr. Rogers said.
The amendment reflects concerns in Congress that implementing New START and further cuts may not benefit U.S. national security.
During the speech in Berlin, the president announced plans to further reduce U.S. warhead levels to around 1,000 — from the goal of 1,550 warheads under New START. Further cuts beyond New START levels would be limited in other pending defense legislation.
"We need to put the brakes on this rush to zero," Mr. Rogers added. "This President is proposing dangerous and irreversible changes to our nuclear forces. Congress must ensure we use caution when tinkering with the nation's ultimate insurance policy — our nuclear deterrent."
Mr. Rogers also said Russia is violating a major treaty with the United States that was omitted in a recent State Department report.
"Based on the most recent arms-control compliance report, it appears, yet another year is passing while the president will ignore significant Russian cheating — let me say that again, Russia is cheating on a major treaty with the United States — so that he can propose further reductions with [Russian President] Vladimir Putin," Mr. Rogers said.
Other officials identified the Russian cheating as related to the 1987 Intermediate-range Nuclear Forces Treaty.
The White House on Monday threatened to veto the defense appropriations bill over limits on terrorist detainee transfers, added overseas operations funding, and other provisions.