Will, Kate and Baby George … Zimmerman? ABC News photo placement gains Twitter laughs
ABC News' website made a peculiar photo placement decision Wednesday that gained hundreds of laughs on Twitter.
The headline read, "Prince William, Kate name Baby George," and showed a picture of the royal couple holding their bundle of joy.
Directly below is a photo of George Zimmerman, with a cherubic look on his face, gazing up in Kate's direction.
"Yikes!" wrote Digg editor Veronica de Souza.
"Absolute epic win," another user wrote.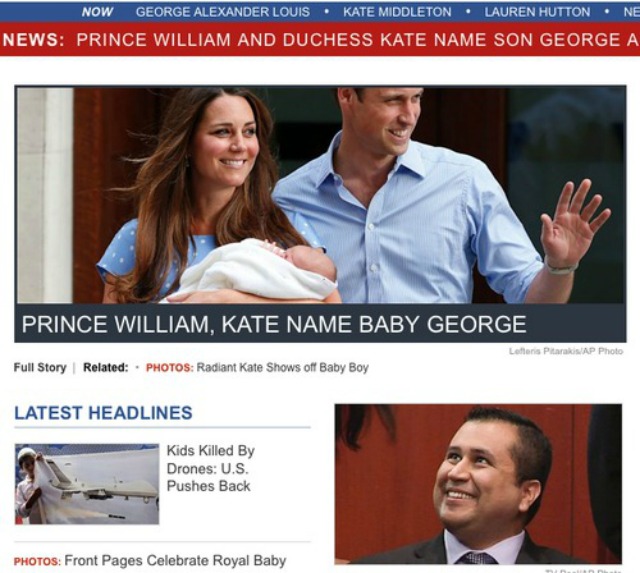 © Copyright 2013 The Washington Times, LLC. Click here for reprint permission.
About the Author
Jessica Chasmar is a continuous news writer for The Washington Times. Previously, she was part of the start-up team for The Washington Times' digital aggregation product, Times247. She can be reached at jchasmar@washingtontimes.com.
Latest Stories
Latest Blog Entries
Commentary
By Andrew P. Napolitano

Fourth Amendment says Obama is not at liberty to collect metadata
Independent voices from the The Washington Times Communities
Covering the world of soccer, including the World Cup, Major League Soccer, D.C. United and the English Premier League and other interesting sporting events.
Lists of top ten movies, songs, funny moments, fashion statements, automobiles, children's names, stupid celebrity moments, first dates, last dates, weddings, and much, much more.
Right-brain investing in a left-brain world. You can do it. I can help.
News and views on the Civil War.