ANALYSIS/OPINION:
RICHMOND — On the edge of the practice field, Emmanuel Ogbuehi tugged off his white No. 80 jersey. The last barrier to all-out anonymity was replaced by a gray T-shirt darkened by sweat.
The warm breeze carried the familiar "R-G-3! R-G-3!" chants from a couple of thousand cooler-toting, sunscreen-smeared Redskins supporters restrained by yellow ropes.
---
SEE ALSO: RG3 pushing bounds of 'Operation Patience' with workload in Redskins camp
---
No one shouted for Ogbuehi's autograph Monday afternoon or, really, gave second thought to the rookie as he was one of the last players to depart the field.
Cellphone cameras and Sharpie-wielding autograph hounds and murmured conversations followed Griffin's each move. A smile! An option keeper! A quick chat with offensive coordinator Kyle Shanahan!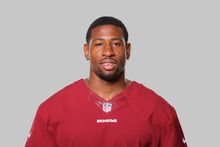 But training camp in late July is about players like Ogbuehi, the guys who send you scrambling for a roster to decipher their number before the jersey disappears. There aren't endorsement deals or big signing bonuses or feeding frenzies for autographs among those clinging to the edge of the 90-man roster. Each play, each minute is an opportunity to grab the coaching staff's attention and keep their long odds of an NFL career alive.
Ogbuehi knows all about that. A few months back, he graduated from Georgia State with a chemistry degree and figured football was done. No team picked the tight end in April's draft. Then the Redskins called.
"I thought I was going to pharmacy school until this NFL thing came along," he said.
Ogbuehi looked around. White tents. A few players lingered to sign footballs and T-shirts. Generators hummed, powering the lifts that allow filming of each move in practice. He offered a wide smile.
These were the guys he played on the "Madden NFL 12" video game not long ago. Now he's one of them. At least for the moment.
That's the question that never quite goes away on the roster's brink. How long can he survive? Each walk-through, each practice, each preseason game, each cut-down date is a hurdle to clear. But Ogbuehi understands unlikely stories.
He walked on to Georgia State's team in 2009 after playing wide receiver in high school, then spent a year practicing before the new program played its first game. His isn't the story of a lauded, sought-after recruit. Ogbuehi even caught the school's first-ever touchdown pass, a 4-yard grab against Shorter University in 2010.
Yes, Shorter University.
Long nights and little sleep helped Ogbuehi juggle football and the chemistry degree while landing on numerous academic honor rolls. He shrugs off the effort as if that's what everyone does, as if that's normal. That same approach is how he expects to get through training camp.
At Georgia State's pro day in March, he flashed the physical gifts that led to a contract with the Redskins. Standing 6 feet 3 inches with a handshake that seems like it could crush a football, he runs the 40-yard dash in a tick below 4.7 seconds. He's strong. Versatile enough to line up at a variety of positions. Even has a 35-inch vertical jump.