As Israeli and Palestinian negotiators met at a State Department dinner Monday night for their first direct talks in more than three years, some in Washington's foreign policy community said ongoing meltdowns in other Middle Eastern nations may have created a rare window for peace between the two sides.
"There are too many things happening in the region, too many countries that are in a state of flux and, ironically, that's actually producing an incentive to get these negotiations going again," said Aram Nerguizian, a senior fellow on the Middle East at the Center for Strategic and International Studies.
With particular regard to the motivations of Israeli Prime Minister Benjamin Netanyahu, whose government made the unexpected move of freeing 104 Palestinian prisoners Sunday, Mr. Nerguizian offered a sobering assessment: "When everything is burning around you, you don't need a fire at home, too."
---
SEE ALSO: Palestinian Authority Mahmoud Abbas vows not one Israeli 'on our lands'
---
He made the remarks on a day in which President Obama vowed his full support for a two-state solution in the decades-old conflict and Secretary of State John F. Kerry announced the appointment of Martin Indyk, a former U.S. ambassador to Israel, to serve as special U.S. envoy to the negotiations.
With peace talks having broken down in 2010 amid disputes over Israeli settlement construction in the West Bank, Mr. Kerry told reporters on Monday afternoon that the pursuit now of "reasonable compromises has to be a keystone of all this effort."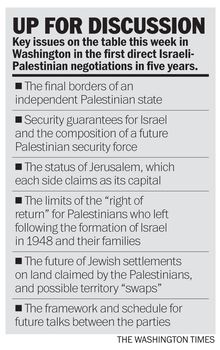 "I know the negotiations are going to be tough," said the secretary of state, who personally hosted Monday night's dinner at Foggy Bottom. "But I also know that the consequences of not trying could be worse."
Middle East analysts in Washington have expressed little more than guarded optimism toward the restarting of talks.
"I think you have to say expectations are modest," David Makovsky said in remarks posted Saturday on the website of the Washington Institute for Near East Policy.
The question, said Mr. Makovsky, who heads the institute's Project on the Middle East Peace Process, is whether Israeli and Palestinian negotiators succeed in isolating the key individual issues that have long caused friction between the two sides, such as border agreements, security, the status of Jerusalem and refugee populations.
"I think if they try to do it all, they may fail," he said. "But if they try to settle for less and don't overreach, they may achieve things."
The two sides' views
The evolving circumstances of the region, however, may be fueling desires among Israeli and Palestinian leaders — albeit for different reasons — to break ground.
"In the long term, there's this very real prospect that decay and destabilization around Israel will continue for years if not decades," Mr. Nerguizian said.
"The security environment Israel finds itself in make it that much more important to engage now in a meaningful process," he said. "Any reduction in tension or instability will have a positive impact on Israeli security because it will potentially then lead to things like normalization with other countries in the region."
As for the Palestinians, Mr. Nerguizian said, they view the situation as "not much brighter."