Baltimore-based Sinclair Broadcast Group will break into the lucrative Washington media market with the purchase of WJLA-TV and NewsChannel 8 from the Allbritton family, which plans to focus more time and resources on its Washington-based political news website Politico and other online media following a nearly $1 billion deal announced Monday.
Arlington-based Allbritton Communications Co. will receive an estimated $985 million for its seven ABC local television affiliates, including WJLA (Channel 7), and NewsChannel 8, the 24-hour local cable/satellite news service. The deal is part of a string of acquisitions for Sinclair since the beginning of the year, including the $373 million deal in April to take over 20 television stations owned by Fisher Communications Inc.
Allbritton CEO Robert Allbritton reportedly had been contemplating selling the TV stations for several years and informed Politico staff in May about the potential sale. Politico was not included in Monday's deal.
"This is the Golden Age of new media innovation, and I intend to stay on the leading edge of it. So, I will be looking to invest in or launch media companies that follow the Politico model of dominating targeted coverage — and then using multiple revenue streams to profitably fund it," he wrote at the time.
Mr. Allbritton stressed that he had no intention of selling Politico and pointed to what he described as "a very bright future" for profitable media companies with a "similar journalistic and business spirit" as Politico.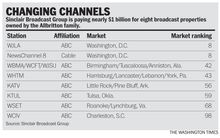 His decision presents a generational shift in the company's goals, moving the focus to online media after his father, Joe Allbritton, who died in December after building an empire that included banks, newspapers and local broadcast television.
But some analysts see potential problems in abandoning local broadcast for online media.
"The notion to get rid of television stations to build a relatively new online news company doesn't seem true to me," said Joseph Turow, professor of communications at the University of Pennsylvania. "I think Politico is terrific, but you don't sell television stations simply in order to build a niche journalism organization. It's apples and oranges. There's more to it than that."
Mr. Turow said part of the motivation for firms such as Sinclair to purchase broadcasting stations comes with the added clout with cable and satellite firms when asking for retransmission fees. And in general, having a television station in the nation's capital can be "very lucrative" because of political advertising directed at elites, especially during an election cycle.
"The question is whether local broadcasting is a good long-term bet," Mr. Turow said. "I think that in the medium term it is, but in the long term it's iffy."
Gabriel Kahn, who jointly runs the media, economics and entrepreneurship program at the University of Southern California, also pointed to potential long-term financial problems of broadcast channels.
"Most of these stations still have healthy profit margins, [but] I've always been surprised by acquisition prices," Mr. Kahn said. "While I think these deals financially make sense in the short term, I question whether or not this type of ad spending that we're seeing in these local stations is going to continue for many years into the future."
But adding the Allbritton properties provides Sinclair with a "once-in-a lifetime" opportunity to expand into the nation's capital, Sinclair President and CEO David Smith said in a statement
"We are especially excited to acquire the NewsChannel 8 local news channel, not only for the content it can provide our existing news stations, but moreover because their regional cable presence provides the perfect platform should we decide to expand it into other markets," he said.
Sinclair's stock was up 29 cents to $30.10 Monday after the deal was announced early in the morning, just under the stock's 52-week high.