An Army aviator who was shot down over Vietnam 43 years ago Sunday finally made the long trip home and was laid to rest in Arlington National Cemetery this week.
Spc. 5 John L. Burgess, 21, was the chief of a five-man crew when their helicopter was hit and crashed into the thick jungles of South Vietnam on June 30, 1970.
The remains of three crew members were recovered, but Burgess' could not be found — setting in motion a 20-year effort by the Defense Department's Prisoner of War/Missing Personnel Office to find and identify his remains.
That mission ended Tuesday when Burgess was buried with full honors at Arlington in a ceremony attended by friends and family.
Rick Van Weezel, Burgess' only son, was nearly 2 years old when his father's helicopter went down. Adopted by a Michigan family shortly after his father's death, Mr. Van Weezel in recent years had begun piecing together who his father was.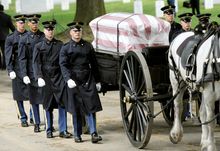 During Tuesday's ceremony, he received a folded American flag.
"It really hit when I got to Arlington. I did not realize that I was getting the flag," said Mr. Van Weezel, 44. "When the officer came up to talk to me, I was just trying to get over that. I was shocked."
At the ceremony, Mr. Van Weezel, a father of three, met other family members he had never known, yet he felt an unspoken bond with them.
"It brought us together," he said. "It was unbelievable to see them."
The lone survivor of the crash — John Goosman — also attended the ceremony with his daughter. He said he remembers that day "like it was yesterday." He was a 19-year-old gunner, a private, and he managed to pull his wounded commander, 1st Lt. Leslie F. Douglas Jr., from the wreckage before it burst into flames. The 25-year-old Army officer died in his arms, and three other crewmates perished in the chopper.
On an online memorial page, Mr. Goosman had posted: "My only regret on 30 June 1970 is the fact that I was not able to get 1st Lt. Richard Dyer, co-pilot; SP-5 John L. Burgess, crew chief; and [Sgt. 1st Class Juan] Colon-Diaz, infantry, out of the HUEY before the explosion; I have lived with this regret all of my life."
An Army team recovered remains from the crash site before it was overrun by enemy fighters, and placed them in three body bags. However, it was later determined that those remains were only Dyer's and Colon-Diaz's.
During the ensuing years, researchers from the Joint Prisoner of War/Missing in Action Accounting Command combed the crash site and, using forensic and other evidence, determined that Burgess' remains were among those later recovered.
Remains of the three crewmen were buried together Tuesday, even though Dyer and Colon-Diaz had received separate burials decades ago.
"It was bittersweet. It was a lot of years and tears, brought back a lot of things you try to forget over 43 years," Mr. Goosman, 62, said of the ceremony. "It was a wonderful experience for the family to know their loved ones are in a place of honor, and that this whole craziness wasn't just forgotten."