Egypt's military ousted the country's democratically elected president Wednesday and appointed a caretaker administrator, a move denounced by the deposed leader's supporters as a coup but celebrated by millions of opponents with rallies and fireworks.
President Mohammed Morsi, who was later arrested, wrote a post on Twitter calling the military's action "a full coup" that will be "categorically rejected by all the free men of our nation."
In a much-anticipated televised address in Cairo on Wednesday night, Army Chief Gen. Abdel Fattah al-Sisi explained the military's plan to end a political crisis that has gripped the North African nation since Sunday.
---
SEE ALSO: John Bolton: U.S. 'made big mistake' pushing out Egypt's Hosni Mubarak
---
President Obama, however, said later Wednesday evening he was deeply concerned about developments and called on the military to quickly return power to a civilian government.
The military appointed Adli Mansour, chief justice of the Supreme Constitutional Court, as interim president and temporarily suspended a constitution that Mr. Morsi's Islamist government adopted last year. Mr. Mansour is expected to be sworn in Thursday.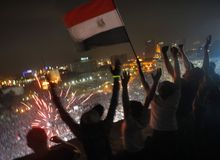 The plan also calls for a national coalition government, early elections and a committee to amend the constitution.
---
SEE ALSO: U.S. official: American diplomats ordered to leave Egypt
---
The military imposed a travel ban on Mr. Morsi and senior members of his Muslim Brotherhood, as the Islamist movement's TV station was taken off the air.
Violence was reported from 16 governorates across the country as tensions escalated between Mr. Morsi's supporters and opponents.
Demands of the people
In his address, Gen. al-Sisi said the armed forces would never ignore the aspirations of the Egyptian people and would stay out of politics.
"The armed forces understood the demands of the Egyptian people," he said.
Gen. al-Sisi drew support from a broad coalition, including representatives of the opposition Tamarod, or Rebel, movement, the fundamentalist Salafist Nour Party, Coptic Christian Pope Tawadros II and Egypt's top Muslim cleric, Al-Azhar Sheik Ahmed el-Tayeb.
Mahmoud Badr, a Tamarod spokesman, said the removal of Mr. Morsi's government put the "revolution back on track."
"Let's start a new page," he said on Twitter. "Our hand is extended to all."
Mohamed ElBaradei, the former head of the U.N. nuclear watchdog who has been appointed by the opposition to represent it in negotiations on Egypt's future, also appeared on TV with Gen. al-Sisi. He said the military road map addressed the demands of the Egyptian people.