WALDORF, Md. | Charlie Manning was done with baseball in 2010.
Manning was 31, and he'd had a nice career. It wasn't stellar by conventional standards. He'd kicked around a lot of minor league towns, playing for as many as three teams in two of his nine years and for two in most of the others.
But he did get a taste of the high life when he appeared in 57 games for the Washington Nationals in 2008, his only year in the major leagues.
---
PHOTOS: Southern Maryland Blue Crabs baseball
---
The phone was no longer ringing and he was fine with that. He went home to Winter Haven, Fla., to figure out stage two of his adult life. It was time.
Then he turned on the television during baseball's playoffs. It wasn't time. The game tugged at Manning again, a pull way too hard to resist. One call led to another and then another and Manning had a uniform again. He has that same uniform today.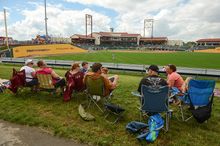 Manning is in his third season with the Southern Maryland Blue Crabs, a team in the independent Atlantic League that plays its home games in Waldorf. The Blue Crabs' immaculate Regency Furniture Stadium is only 27 miles from Nationals Park and the distance provides a fitting metaphor for what Manning and the others in the league face. It is pretty close, though not always easy to get there. But it can be done.
"I had my moment. I was happy with how my career went. I was going to take it to the house, retire," Manning said before a recent Blue Crabs game. "I watched the playoffs and those competitive juices had started flowing. I had to come and try it again."
Trying it again is why Manning shares a locker room with four others who reached the majors and 14 players who got as high as the Triple-A level. Most rosters around the league are similar. Trying it again is why Dontrelle Willis is pitching for the Long Island Ducks, why ex-National D'Angelo Jimenez is playing for the Camden Riversharks, why ex-Nationals pitchers Jason Bergmann and Gary Majewski are playing for the Sugar Land Skeeters.
It is not a young league. The Blue Crabs' average age is higher than the Nationals'. It is not a developmental league. It is a prove-it league, a chance to show organizations in the United States and abroad you can still play. It is a chance to get another chance.
"Teams are much more likely to sign a guy who is somewhere throwing than a guy who is sitting at home," Bergmann said.
That's a major selling point Blue Crabs manager Patrick Osborn uses when recruiting players such as Manning for his roster. A former standout at the University of Florida, Osborn is in his sixth season with the Blue Crabs. He spent three years as a player and is in his third as manager. He never made the majors as a player. He came back for another shot and stayed.
"I want guys who are hungry, who are coming here to get out of here," Osborn said. "I was given a chance to come here and try to get out. It didn't happen. At least I could walk away knowing I gave it my best shot. I could live with it.
"I tell guys that as long as you're putting on a uniform every day, something good can happen. Their ultimate goal is to play in the big leagues. That was mine. It doesn't happen for everyone. It doesn't happen for most people. It does happen. There's that chance, if you still have that uniform on and you're still playing."
***
It does happen. As of last week, a total of 22 players (all but two of them pitchers) on current major league rosters had spent some time in independent leagues. The number fluctuates as rosters change. While it is not a very big number, it isn't a pipe dream.