DETROIT — The trade deadline came and went Wednesday afternoon and the Washington Nationals' roster, talent-filled but largely underperforming, remained the same. But the day was far from quiet.
The morning brought with it reflection, a moment of self-evaluation, and perhaps resignation. As he talked about the Nationals' need for prudence at the deadline, manager Davey Johnson spoke mostly of the future. Of a young organization still growing.
"I don't regret saying, 'World Series or bust,'" he said, in reference to the slogan he dropped on his team eight months ago that has evolved into mostly just a marker upon which to measure its underachievement.
"It looks more like bust, but this is my last go-around anyway. I want to do what's best for the organization."
The evening came with another cold reality, another embarrassing defeat, and four months of frustrations bubbling over.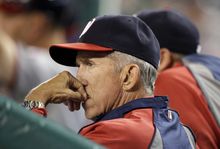 After an 11-1 kick to the teeth by the Detroit Tigers on Wednesday, the Nationals had played 18 innings at Comerica Park and scored only twice. They needed seven pitchers to get through the two-game series, left 15 runners on base and went 2 for 17 with runners in scoring position. They fell to 52-56 as they scored one run or fewer for the 30th time in 108 games and lost by five runs or more for the 15th time.
"We just got our [butts] kicked for two games," said outfielder Bryce Harper, who left the game after a hip spasm but said he would be fine. "You've got to have heart. That's the biggest thing right now. You've got to play as a family, and everybody's got to want it, starting with the manager on down to everybody.
"We need to get going and play better, hit better, have better [at-bats] in certain situations and pitch better also. We play the Braves nine [more] games. This [stuff] ain't over."
At age 20, Harper is the Nationals' youngest, but most prominent, player. Since he arrived in the major leagues in 2012, he's worked to toe the line and keep his comments in check, in deference to the more veteran players on the team.
Asked if he felt the Nationals were lacking that heart, Harper was honest.
"I mean, absolutely," he said. "I'm not the one to speak on it. I try to be a leader, but I'm younger. I think there's things that we can do better, and I think everybody knows that. We're a better team than we're showing right now."
The Nationals were competitive with the AL Central-leading Tigers for about six innings in the series. Given their anemic and inconsistent offense, a grand slam off Stephen Strasburg sealed Tuesday's game, and 10 runs off Gio Gonzalez sealed Wednesday's.
They fell 10 1/2 games behind the Atlanta Braves and 7 1/2 games back of the second wild card.
"[Frustration] was two months ago," said first baseman Adam LaRoche, who is now 14 for 88 in the month of July (.159) and struck out three times with runners on base Wednesday.
"We were scratching our heads two months ago trying to figure out what was going on. We find it for a couple days and then it's gone. It's a group effort. We're all in this together. Fight to the end, see what happens, but stretches like these last two get pretty old."