The Statue of Liberty, hit hard by Superstorm Sandy in October and closed for repairs, is now back in business — just in time for Independence Day.
The storm's 14-foot surge had flooded about 75 percent of the island, destroying water and sewer systems, and wrecking docks and paths.
Coincidentally, the storm hit the statue just a day after celebrations for its 126th dedication anniversary, The New York Post reported. It reopened, fully repaired, on Wednesday.
"We're delighted to reopen the Statue of Liberty to the public, especially after something so major," said John Warren, spokesman for the Statue of Liberty National Monument.
The statue was designed to withstand strong winds. Its iron framework is the same used for the Eiffel Tower, the National Park Service said.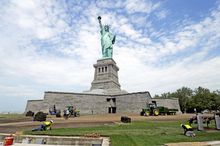 Tickets to visit the statue are already sold out for Thursday.