Since the end of Wilson Ramos' rookie season, life has been far less about playing baseball for the Washington Nationals' catcher, and far more about staring down the adversity that has come his way. The past two years have brought with them so many things Ramos would prefer to let baseball push out of his mind.
And yet until Thursday, on a steaming hot Fourth of July in the District, he had so rarely been able to do that.
But as Ramos stood at the top step of the Nationals' dugout in the seventh inning of Washington's 8-5 victory over the Milwaukee Brewers and basked in the curtain call that followed his go-ahead three-run homer, all he could do was smile.
"I was just happy," Ramos said. "That was a happy moment. An exciting moment. I never did that before."
Ramos was already 2-for-3 with two RBI by the time he came to the plate in the seventh. It had been mere minutes since Drew Storen blew a two-run Nationals lead and forced them back into a tie game.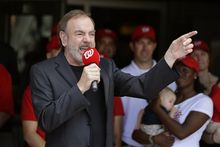 In the dugout, manager Davey Johnson turned to bench coach Randy Knorr and offered a prophecy. "He's had a good day," Johnson said. "He might as well just hit one out here."
"He's a statement player and definitely somebody who's just waiting for his turn in the spotlight," said shortstop Ian Desmond, who was 3-for-4 and scored twice in his first game this season hitting in the No. 2 spot in the lineup.
"I think today he got a lot of recognition," Desmond said of Ramos. "And no one deserves it more than him."
It had been 44 days since Ramos played in a major league game. In this maddening Nationals season that has seen little go the way they hoped, Ramos appearing in just 15 games before Thursday certainly was part of the problem.
A twice-strained left hamstring cost him 58 games. Compared to the harrowing kidnapping he endured in Nov. 2011, and the rehab process he was forced into when the anterior cruciate ligament and meniscus in his right knee gave out last May, the hamstring was easy lifting. Still, it was another roadblock.
"Right now, I don't want to think about [that]," Ramos said. "It happened in the past. I want to look at the present and to the future."
With rookie starter Taylor Jordan's 5 2/3 innings of solid work erased by Storen's three-run seventh inning that featured two home runs, the boos had only just faded when Jayson Werth sent a two-out single through the left side of the infield and Anthony Rendon walked.
Ramos took one pitch from Brandon Kintzler, a righty whose only other home run allowed this season was to the left-handed-hitting Carlos Beltran. The pitch was a slider. When Kintzler went to throw it again, Ramos crushed it and walked his first few steps down the first-base line.
"He threw me the first one, and after that, he threw me another one," Ramos said. "I said, 'Give me that one.'"
During his a rehab assignment with Single-A Potomac this week, Ramos was 0-for-10. It mattered little to him, or the Nationals, so long as his legs felt strong. They did. With his sister, Milanyela, in attendance, he finished Thursday with a career-high five RBI.