A Mexican drug cartel known for kidnapping random civilians and beheading its rivals has expanded its operations into the U.S.
The gang known as Los Zetas is recruiting U.S. prison and street gangs, and non-Mexicans, for its drug trafficking and support operations in Mexico and the U.S.
An FBI intelligence bulletin notes that "multiple sources" reported the shift in Los Zetas recruiting. The cartel sought to maintain a highly disciplined and structured hierarchy by recruiting members with specialized training, such as former military and law enforcement officers.
"The FBI judges with high confidence that Los Zetas will continue to increase its recruitment efforts and establish pacts with non-military trained, nontraditional associates to maintain their drug-trafficking and support operations, which may increase violence along the Southwest border posing a threat to U.S. national security," the bulletin says.
The expansion of Los Zetas operations across the southwestern border has long been a concern of U.S. authorities. Trained as an elite band of Mexican anti-drug commandos, Los Zetas evolved into mercenaries for the infamous Gulf Cartel, unleashing a wave of brutality in Mexico's drug wars.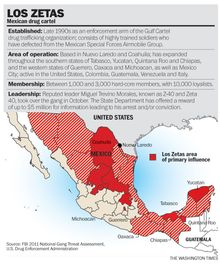 Bolstered by an influx of assassins, bandits, thieves and thugs, as well as corrupt federal, state and local police officers, the gang has evolved into a well-financed and heavily armed drug-smuggling force of its own.
Known for mounting the severed heads of its rivals on poles or hanging their dismembered bodies from bridges in cities throughout Mexico, Los Zetas easily has become the most feared criminal gang in Mexico.
"The Zetas are determined to gain the reputation of being the most sadistic, cruel and beastly organization that ever existed," said George W. Grayson, a professor of government at the College of William & Mary and a specialist on Mexican drug gangs. "Many of Mexico's existing drug cartels will kill their enemies, but not go out of their way to do it. The Zetas look forward to inflicting fear on their targets. They won't just cut off your ear; they'll cut off your head and think nothing of it."
Weapons, cars, horses
The FBI intelligence bulletin quotes what it describes as "corroborated collaborative" sources "with excellent access" to show that Los Zetas has increased its effort to recruit and contract with U.S. gangs for daily drug trafficking activities in the United States.
The bulletin says the FBI had "moderate confidence" that Los Zetas likely will pose a higher national security threat to the U.S., based on "demonstrated capabilities for violence, their recent killings of U.S. citizens, increased kidnappings of U.S. citizens on both sides of the border, and their continued participation in the U.S. drug trade."
According to the FBI, Los Zetas:
• Made contact with the Texas Mexican Mafia prison gang and tasked its members to collect debts, carry out hits and traffic drugs into and through Laredo, Texas.
• Tried to recruit U.S. gang members in Houston to join Los Zetas' war against the Gulf Cartel on both sides of the border.
• Was buying AK-47 semi-automatic assault rifles from the Tango Blast, a Houston-based street gang.