As more details trickle out this week about the federal government's secret collection of American telephone records, frustration is growing on Capitol Hill over a stratified intelligence-briefing structure that gives some members — but far from all — access to highly classified information.
No fewer than four layers of intelligence clearance exists in Congress, with some House and Senate members of varying degrees of leadership and committee status privy to more information than rank-and-file lawmakers.
The broad issue of who gets access to sensitive national security information has bubbled into a debate — and somewhat of a sore spot among lawmakers — since news was leaked to the media last week that the National Security Agency has been collecting telephone records of tens of millions of Americans under an order granted by the secret Foreign Intelligence Surveillance Court.
Often when national intelligence agencies brief Congress on sensitive issues, party leaders and senior members of the House and Senate intelligence committees — and to a lesser degree the full panels and other committees in which national security measures are pertinent — serve as a proxy for the rest of Congress.
House Minority Whip Steny H. Hoyer of Maryland, the chamber's second-ranking Democrat, said he believes the House intelligence and judiciary committees were briefed about the NSA phone program before its existence was made public last week.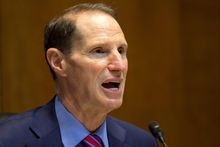 "Now, we have a process for informing. And the information I have is that there were members of the Judiciary Committee and the intelligence committee who were, in fact, briefed so that the Congress was kept informed," Mr. Hoyer told reporters Tuesday. "Whether all 535 members were personally briefed, I doubt that. That is not the process."
The Democrat said he learned of the NSA program from media reports — though he added that a 2011 security briefing he attended on the USA Patriot Act may have included some references to the program but that he couldn't recall for certain.
While some lawmakers left out of the classified briefings are pushing for more congressional oversight, many inside the information circle say it shouldn't be expanded.
"You can't do intelligence [briefings] in general" settings, said Sen. Barbara A. Mikulski, Maryland Democrat and member of the Senate Select Committee on Intelligence. "It has nothing to do with logistics. It has to do with national security."
With 100 senators and 435 representatives in Congress, national security analysts say, it would be near impossible, imprudent — and possibly dangerous — to brief all lawmakers equally.
"Look, all congressmen are not created equal," said Benjamin Wittes of the Brookings Institution, a liberal-leaning Washington think tank. "I'll tell you, there are people in Congress who, if I were running an intelligence agency, I would not brief. I just wouldn't do it."
Security analysts on and off Capitol Hill say the information flow generally works well, but also creates situations in which many lawmakers can be caught off guard when top-secret intelligence information known to a select few on Capitol Hill is leaked to the public.
"I'm not sure there's very much to do about that," Mr. Wittes said in regard to the unbalanced flow of information on Capitol Hill. "I'm not honestly sure how you fix that problem or whether you can. It may be one of these intractable difficulties with the separation-of-powers system."
Sen. John Thune of South Dakota, chairman of the Senate Republican Conference, told CNBC on Monday that most members of Congress weren't aware of the breadth of the NSA program. "I do think that it probably suggests that we need to have additional oversight," he said.
Sen. Ron Wyden, Oregon Democrat, reiterated complaints Tuesday that National Intelligence Director James R. Clapper failed to give him a straight answer when he was asked about snooping on Americans during an oversight hearing in March.