The Supreme Court on Thursday ruled unanimously that human genes are "a product of nature" and companies cannot obtain patents on them — a major shift in patent policy that could open the door to broader medical research on certain cancers and other diseases.
The decision threw out patents awarded to Myriad Genetics Inc., a Utah firm that isolated the location and sequence of what's known as the BRCA gene, which can signal risk of developing breast and ovarian cancer.
"To be sure, it found an important and useful gene, but separating that gene from its surrounding genetic material is not an act of invention," Justice Clarence Thomas wrote for the court.
But the ruling also held that genes the companies create themselves, which Myriad call cDNA, can be patented. The high court left the door open to Myriad and other companies that seek patents for the methods they employ to manipulate genes.
Advocates said prohibiting patents of genes could make tests more affordable by spurring competition among entities that want to test for high-risk gene mutations.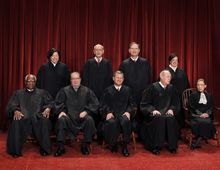 Actress Angelina Jolie recently called attention to the issue by having a preventive double mastectomy because she carries the mutated gene that makes her highly vulnerable to breast cancer.
Myriad's shares soared Thursday immediately after the ruling but took a dive later in the day, an indication that investors were still trying to digest the mixed ruling. In a statement, the Salt Lake City company highlighted court's ruling that engineered genes could be patented.
"We believe the court appropriately upheld our claims on cDNA, and underscored the patent eligibility of our method claims, ensuring strong intellectual property protection for our test moving forward," Myriad President and CEO Peter D. Meldrum said.
But the Association for Molecular Pathology, the lead petitioners in the case against Myriad, also hailed the decision as a boon for scientific research.
"The Court's decision that human genes are not patentable is a great step forward for the field of molecular pathology, for genomic science, and most important for our patients," the group said.
Justice Thomas' opinion, underscoring the esoteric nature of the topic, was heavy with jargon such as "eons," "messenger RNA" and "nucleotides." It also delved into the history of human genome research and the "double-helix" that British researchers James Watson and Francis Crick first mapped in 1953.
Justice Antonin Scalia filed a concurring opinion saying he was unable to get into the "fine details of molecular biology" but was confident the DNA that Myriad isolated is identical to the material in its natural state, so it cannot be patented.
Mary Anthony Merchant, a patents specialist at the Ballard Spahr law firm's Atlanta office, said the court's interpretation of what it means to isolate something from nature could produce a "ripple effect" among patents on products derived from naturally occurring substances.
"That word 'isolated' was kind of magic language at the patent office," she said. "It was implied, in 'isolated,' that you were doing something to do it."
Various interest groups, including ones that often do not see eye to eye, reacted positively to the court's decision.