LOS ANGELES (AP) — Kris Jenner says her daughter Kim Kardashian is thrilled to have a new baby.
Miss Kardashian and her rapper boyfriend, Kanye West, were keeping silent in the wake of multiple reports that Miss Kardashian gave birth over the weekend — about a month premature.
But Miss Jenner told E! at the Daytime Emmys on Sunday that Miss Kardashian is "extremely happy and thrilled for the new baby and she's doing great and she's beautiful."
Miss Kardashian's sister Khloe appeared to have let a rather cryptic cat out of the bag on Twitter.
"I can not even begin 2describe the miracle that is now apart of our family. Mommy/baby are healthy &resting. We appreciate all of the love," she tweeted Sunday.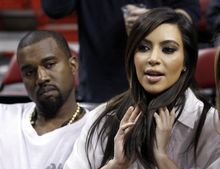 She quickly followed with a second tweet: "More info will come when the time is right! Thank you all for understanding! We love you all dearly! Overwhelmed with love right now."
Miss Jenner linked to both tweets on her Twitter account, then wished Mr. West a happy Father's Day.
Asked for comment on the red carpet at the Daytime Emmys, where she was a presenter, Miss Jenner said, "She's in charge," pointing at her publicist, who whisked her away from print reporters after doing TV interviews.
The reality TV star's pregnancy was almost as anticipated as the royal pregnancy of Kate Middleton, who is due in mid-July. That's about the time the Kardashian baby had been due.
The 32-year-old Kim Kardashian often has been photographed since announcing she was pregnant, opting to continue to wear designer clothing. She told The Associated Press in April that she eventually embraced being an expecting mom after getting past "the awkward phases and stages."
The couple initially kept the baby's gender a secret, but the sex was revealed earlier this month during one of Kim Kardashian's doctor appointments on "Keeping Up With the Kardashians."
News of the birth has been swaddled in secrecy. Representatives for Mr. West and Kim Kardashian didn't respond to emails and calls from The Associated Press, nor did any representatives for family members, friends and professional associates. And all of the weekend media reports on the birth were attributed to anonymous sources.
In a recent interview with The New York Times, MR. West said he didn't like talking about his family or the arrival of his child.
"Like, this is my baby. This isn't America's baby," he said.
• Associated Press writer Beth Harris in Beverly Hills, Calif., contributed to this article.