As lawmakers take up austerity measures and the Defense Department and other agencies grapple with difficult budget choices, some contracting companies that derive their income entirely from the federal government have grown increasingly fat.
Last year, 59 major publicly traded government contractors earned a combined $36 billion in profits nearly entirely from taxpayers. That was up from $35 billion in 2011 and $33 billion in 2010, The Washington Times found in a review of financial disclosure records.
Each of the companies reported deriving at least 80 percent of its revenue from federal contracts at least once in recent years, and critics say they could have charged less to the government and still been viable.
Indeed, while contractors say the profit margin when dealing with the government is typically lower than that when dealing with private clients, there are also economies of scale, and the government is a client that is more massive and steady than most private clients.
Scott Amey, general counsel at the Project on Government Oversight, said "you can't blame federal contractors for seizing business opportunities," but that "outsourcing has caused an overreliance on contractors, and defense industry consolidation has stifled competition, which places contractors in a very powerful position."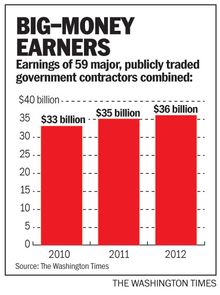 "The result has been a dramatic increase in federal contract spending, especially on service contracts, and increases in sales and profits," he said. "If cuts are forthcoming, I would expect to see contractor employees and small-business subcontractors suffer the most — well before we see the bottom line shrink for the top defense contractors."
Defense giant Lockheed Martin Corp. just had its most profitable quarter ever, with profits jumping 14 percent to $761 million even though sales fell 2 percent. It laid off 650 employees and threatened furloughs for hundreds of others in response to sequestration, but on the same day disclosed that its former CEO was given a $2 million raise.
The company is open about its lobbying against defense cuts to preserve its bottom line.
"Even though sequestration has now taken effect, we will continue to urge our government leaders to reverse this action and establish a more rational fiscal strategy that better addresses our nation's challenges," it said in a statement.
Because sequestration did not kick in until March and long-term contracts still exist, effects from sequestration won't be felt right away. The company said more employees could lose their jobs if lawmakers do not restore funding, but "we will continue to meet our customers' evolving needs and generate value for our shareholders."
Lucrative world
Aerospace and military contractor United Technologies Corp. had a net income of $5.5 billion last year, up from $4.7 billion in 2010. Last year, United Technologies pleaded guilty to illegally selling sensitive military software to China and lying to cover it up. It agreed to pay $76 million in fines, $20 million of which was suspended.
The lucrative world of outsourced governmental functions was highlighted last month when Edward Snowden, a 29-year-old Booz Allen Hamilton employee who said he earned $200,000 a year, leaked devastating national security information to newspapers in America and Britain. Booz Allen said Mr. Snowden made $122,000 a year and has since been fired.
The net income of Agilent Technologies Inc., which records suggest netted about $500 million from federal contracts over the past several years, nearly doubled from $684 million in 2010 to $1.2 billion last year. Yet it paid only a 2 percent effective tax rate in 2011 and a 1 percent rate in 2010, far short of the 35 percent maximum corporate tax. Last year, instead of paying taxes, Agilent received a $110 million benefit, for a negative 11 percent tax rate, from the federal government.
"Approximately [$2.24 billion] of our cash and cash equivalents is held outside of the U.S. in our foreign subsidiaries. Most of the amounts held outside of the U.S. could be repatriated to the U.S. but, under current law, would be subject to U.S. federal and state income taxes," Agilent told shareholders.