More than a billion gallons of stormwater and sewage flow into the District of Columbia's rivers every year, and there is a belief that George Hawkins is the man to fix it.
The D.C. Water general manager is a national environmental rock star, a charismatic man — as anyone who has seen him sketch a once-in-a-century infrastructure project on a white board can attest.
He is said to harbor ambitions of someday becoming administrator of the Environmental Protection Agency (EPA).
But with Mr. Hawkins acting in concert with D.C. Water's Chairman of the Board Allen Lew, who also is the D.C. City Administrator, the attempt to open up a 2005 federal consent decree requiring reduced overflows from the city's combined sewer system has gotten messy. The plan is to shift resources away from a three-tunnel project to divert and treat polluted rainwater that flows into the Potomac and Anacostia Rivers and Rock Creek, and into a pilot project to study green alternatives such as rain gardens.
Already, there have been consequences for D.C. officials who questioned the plan, with Mr. Lew exercising a heavy hand in firings and aborted attempts at firings. Meantime, Mr. Hawkins, with the approval of Mr. Lew and Mayor Vincent C. Gray, has quietly negotiated a "Green Infrastructure Partnership Agreement" with the EPA that could shift D.C. Water's financial burdens onto District agencies and taxpayers to support its stormwater projects.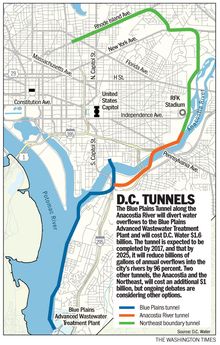 On Monday, Mr. Gray and Mr. Lew will ask the D.C. Council to confirm appointment of the director of the District Department of Environment (DDOE) to the board of D.C. Water. But D.C. Water is supposed to be an independent agency, and DDOE is empowered to regulate stormwater management activities in the District.
Environmental groups see the maneuver as a conflict of interest, and Mr. Gray as willing to manipulate his DDOE director in spite of his regulatory authority in order to gain EPA approval of Hawkins' plan.
They are equally concerned the pilot project will forestall the tunnels in favor of newer technology that is unproven on a citywide scale.
Mr. Hawkins often plays by his own rules, according to those who have observed him up close. In promoting the pilot project, he reportedly bypassed EPA Region 3 Administrator Shawn Garvin and went directly to former EPA Administrator Lisa P. Jackson, a friend from when the two served as environmental protection officials in New Jersey.
Mr. Hawkins denies bypassing Mr. Garvin — a major "process foul" in EPA parlance — but during a recent two-hour interview he conceded, "We communicate with EPA [headquarters] more than other agencies because they're in D.C. Plus, I know Lisa from New Jersey."
Mr. Hawkins also admits that he kept DDOE — the city's stormwater administrator — out of the EPA discussions until the 11th hour, a decision that would not be possible without Mr. Lew's approval.
"If I had it to do over, I would have involved DDOE earlier and more often," Mr. Hawkins said. "I misjudged that, and should've engaged them early on."
Put D.C. at the forefront
Mr. Hawkins aims to put D.C. at the forefront of the clean rivers movement. Currently the project to reduce stormwater and sewage overflows is funded by D.C. Water, which provides 600,000 residents, 17.8 million annual visitors and 700,000 District employees with water and sewer service.
D.C. Water is spending $1.6 billion to build a tunnel along the Anacostia River to divert those overflows to the Blue Plains Advanced Wastewater Treatment Plant. Mr. Hawkins said D.C. Water will finish that tunnel by 2017, and that by 2025, it will reduce billions of gallons of annual overflows into the city's rivers by 96 percent.