The Obama administration's efforts to justify the National Security Agency's vast data-gathering about Americans' phone and online communications hit a snag this week, as doubts surfaced about newly declassified details on terrorism investigations that U.S. intelligence officials released to reassure the public.
Lawmakers with access to classified information and lawyers who have followed the four cases made public said the NSA's domestic data gathering had not played the crucial role that officials assert.
"We have yet to see any evidence that the bulk phone records collection program has provided any otherwise unobtainable intelligence," Democratic Sens. Ron Wyden of Oregon and Mark Udall of Colorado said in a joint statement.
"It is highly doubtful that these [NSA collection] programs played the kind of central role in these cases that officials have said," said Michael German, a lawyer and former undercover FBI agent who now works for the American Civil Liberties Union.
Since contract computer technician and self-proclaimed whistleblower Edward Snowden revealed the existence of two huge top-secret NSA data-gathering programs this month, officials have struggled to justify them to the public without worsening the damage they say the revelations have caused to national security.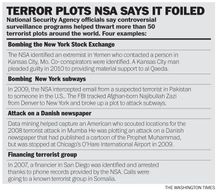 This week, intelligence officials at a rare public hearing told the House Permanent Select Committee on Intelligence that more than 50 terrorist plots, 10 to 12 of which involved a target in the U.S., had been foiled using intelligence from at least one of the NSA programs.
One of them, which uses a computer system called Prism to get real-time access to electronic communications carried by U.S. Internet and technology companies, is authorized under Section 702 of the Foreign Intelligence Surveillance Act (FISA) amendments of 2008.
Prism, which allows the NSA to eavesdrop on email and text messages, as well as Internet telephone and video chat services such as Skype, is used only against targets "reasonably believed" to be foreigners outside the U.S., officials say. They acknowledge that some Americans' communications are collected "inadvertently" because they are in touch with targeted suspects.
But there has been more concern about the second program exposed by Mr. Snowden, which is authorized under Section 215 of the USA Patriot Act, a large suite of anti-terrorism laws passed hurriedly in the wake of the Sept. 11, 2001, terrorist attacks.
Under this program, the NSA collects so-called metadata — time, duration and destination number — about every telephone call made in the U.S. Officials told the House intelligence committee that the data helped them identify contacts between terrorists abroad and their associates in the U.S.
But even FBI Director Robert S. Mueller III acknowledged Wednesday that this huge NSA database of domestic phone calls was only "a contributing factor; one dot amongst a number of dots," in "many" of the 10 to 12 cases involving a planned attack in the U.S.
The one case that he said wholly relied on the program was a 2003 probe that began after a tipoff about a San Diego-based supporter of al-Shabab, a Somali terrorist group with links to al Qaeda.
"We closed the investigation down," said Mr. Mueller, explaining that agents were unable to find evidence of a terrorist connection.
In 2007, the NSA gave the FBI a phone number in San Diego that they said had been in contact with a phone in East Africa they were monitoring.
"They could not tell what calls were made to that telephone line in East Africa," said Mr. Mueller. "And consequently, they took that number, ran it against the database and came up with this telephone number in San Diego."