National Security Agency leaker Edward Snowden, who apparently remained holed up in a Moscow airport transit lounge Monday night, has chosen an itinerary taking him to sanctuary in nations restricting the very Internet and press freedoms he says he stands for, U.S. officials said.
Criticism rose as Mr. Snowden, who was allowed to leave Hong Kong despite a pending extradition request from the U.S., disappeared from public view in Moscow. He failed to take two seats booked in his name on a Russian AeroFlot flight Monday to Havana, from where he was expected to fly to Quito, the capital of Ecuador.
Ecuador's foreign minister confirmed that Mr. Snowden applied for political asylum from the leftist government of President Rafael Correa.
---
SEE ALSO: White House slams Hong Kong, China for shielding leaker
---
Mr. Snowden's supporters denied that he had been interviewed by Chinese authorities, and Russian officials said that, as a transit passenger, he had not entered their country.
White House spokesman Jay Carney said U.S. intelligence officials were working on the assumption that any information he took from the NSA already had been compromised.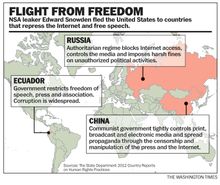 Snowden's route
Secretary of State John F. Kerry noted Monday that there was "no small irony" in the route taken by Mr. Snowden — a self-proclaimed defender of Internet rights and freedom of expression.
"I wonder if Mr. Snowden chose China and Russia as assistants in his flight from justice because they're such powerful bastions of Internet freedom?" Mr. Kerry asked reporters in India.
"But evidently, [Mr. Snowden] places himself above the law, having betrayed his country with respect to the violation of his oath," Mr. Kerry said.
Russia and China are infamous for limiting Internet freedoms, according to a global assessment compiled annually by one of Washington's leading nonprofit advocacy rights groups.
Freedom House's annual Freedom on the Net report for last year rated Russia's record on the Web as "partly free" and China's as "not free."
China was one of only two nations surveyed that employed all nine categories of Internet censorship that Freedom House cataloged. The other country was Iran.
Ecuador, one of the countries to which Mr. Snowden applied for asylum, adopted a communications law that restricts journalists' freedom of expression, according to Human Rights Watch.
The legislation, passed by the Ecuadorean National Assembly on June 14, "seriously undermines free speech … [and] includes overly broad language that will limit the free expression of journalists and media outlets," the group said in a statement last week.
Human Rights Watch Americas Director Jose Miguel Vivanco called the law "yet another effort by President Correa to go after the independent media."