Bill Haas' hands shook Sunday afternoon as he stood over his 2-foot putt on the 72nd hole of the AT&T National.
Victory had become a formality, a tap-in, because of a 3-stroke lead he built by putting brilliantly throughout his final round at Congressional Country Club's Blue Course. But that did not alleviate the tension in Haas' body or silence the downbeat voice in his head.
A moment later, the ball disappeared into the cup and the crowd roared. Haas pumped his fist. All his negativity and doubt released.
The red numbers on the giant white scoreboard to the right of the 18th fairway detailed how Haas' 12-under-par 272 beat 131 other players this week. And if there were a place on Haas' scorecard to record how he conquered his own wobbly psyche, there would be red numbers there, too.
"As many times as I've choked and hit bad shots and I've been nervous and it hasn't worked out, I was feeling all those things today," Haas said. "To hit good quality golf shots down the stretch is such a good feeling. I wish I could explain it. It's amazing."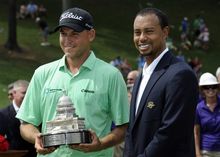 Haas, who entered the final round in a four-way tie for the lead, made six birdies en route to a 5-under 66. He claimed his fifth PGA Tour victory and the $1.17 million winner's share of the purse. Runner-up Roberto Castro shot a final-round 69 to finish three back.
Haas' walk around Congressional on Sunday was a grueling mental exercise, as he battled demons born of previous final-round failures.
He blew a three-shot lead at the Northern Trust Open at Riviera in February. In September, a final-round 6-over-par at the BMW Championship at Crooked Stick kept him out of the Tour Championship by one stroke. "I threw up on myself," he picturesquely described it.
Those letdowns ate at him during the days and practice-range sessions that followed. He wondered how he would fare in his next opportunity. Would he crumble again Sunday? Would he overcome the challenge?
"You're going to be nervous; try to enjoy being nervous," Haas said. "That's hard to do because when you're nervous, you feel like you're going to hit a bad shot.
"I think there was a couple times today where I could feel it coming, and I just took a few deep breaths. There were a couple of putts where I felt really comfortable over a few of them that maybe I wouldn't have normally if I hadn't been in this situation a few other times."
Five players were tied at 7-under when Haas pulled away by birdieing Nos. 8, 9 and 10. He then seized control by making par at the par-4 11th, statistically the toughest hole on the course this week.
No. 11 was 489 yards of uphill agony for Haas through the first three rounds. He double-bogeyed the hole Thursday and made triple bogey in Saturday's third round. He teed it up there Sunday determined to be mentally tough.
"That's terrible to say that I choke and I throw up on myself, but I'm just honest that I did that — but go from there," Haas said. "How do you get better? Don't do it again, you know? Today I didn't do it. I think it makes it that much sweeter, too, when you can remember the times that you stunk."
To put it in his terms, Haas kept his lunch down Sunday.