For some communities stung by tragedy, a wrecking ball is key to the healing process.
For others, the decision to keep the site of past trauma standing is a vital step on the road to recovery.
One approach is unfolding in Newtown, Conn., where local officials have voted to tear down Sandy Hook Elementary School — where 20 first-graders and six educators were murdered last December — and erect a new building on the same plot.
Many in Cleveland believe demolition also is the right answer for Ariel Castro's house of horrors, where three women were imprisoned for a decade before being rescued last month. Two decades ago, what was left of the Alfred P. Murrah Federal Building was demolished just a few weeks after a bombing at the downtown Oklahoma City complex killed 168 people.
But very different tacks were taken in the aftermath of the shootings at Virginia Tech's Norris Hall and at Colorado's Columbine High School. Both structures still stand, though each has undergone significant renovations.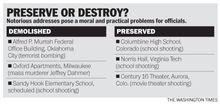 In such delicate and emotionally charged situations, there is no right or wrong path to take, specialists say. The correct step for one school, company or town may be entirely inappropriate for another.
"Every community goes through their own process of deciding how they want to handle this. There are very different reactions and very different ideas," said S. Megan Berthold, an assistant professor in the University of Connecticut's School of Social Work and a trauma specialist with more than 25 years' experience in her field.
"Some communities have used the opportunity, if you will, of these horrible disasters to support the resilience of the community in terms of coming together acknowledging the loss but still looking to the future," she said.
That rationale clearly was on display in Aurora, Colo., where the Century 16 theater reopened just a few months after 12 people were killed and 58 wounded during a midnight showing of "The Dark Knight Rises" last summer. About 75 percent of Aurora residents said the theater should be kept open, according to a survey conducted by the city.
The Safeway grocery store just outside Tucson, Ariz., also still stands two years after Rep. Gabrielle Giffords and nearly 20 others were shot in the parking lot. Six people died in the assault and Ms. Giffords was gravely wounded.
Much like the decision at Columbine a decade earlier, leaders at Virginia Tech decided to keep open Norris Hall. Site of the worst mass-shooting by a single gunman in U.S. history that claimed 32 lives, the building continues to be used for research and classes.
Part of the structure was completely renovated and has become the university's Center for Peace Studies and Violence Prevention.
"People did not want this tragedy to negatively impact the future of teaching and learning. To tear down or to no longer utilize a building that is in the heart of our campus, a very large facility, it would have been a feeling or a sense that we took a step backward," university spokesman Mark Owczarski said.
"Every situation and every circumstance is unique to that community. No one at Virginia Tech can say what Newtown, Conn., should do. What we decided was right for our community given the circumstances," he said.
The decisions by Virginia Tech and Columbine, can be best understood by looking at them in a larger context, specialists say. For years, the buildings had been used for an undoubtedly positive purpose — the education of young people.