It turns out the parents of Hillary Rodham Clinton and Rick Perry knew what they were doing when they named their babies.
A research paper by a team of University of Chicago political scientists found that liberals and conservatives, in addition to all of their other differences, have distinct tendencies when it comes to choosing names for their newborns.
Names with the soft consonant "l" or that end in a long "a" — for example, President Obama's daughter Malia — are more likely to be found in Democratic neighborhoods, while names with hard vowel sounds such as K, G or B — think former Alaska Gov. Sarah Palin's sons Track and Trig — are more popular in Republican communities.
"We find strong differences in birth-naming practices related to race, economic status and ideology," said the paper, "Liberellas versus Konservatives: Social Status, Ideology, and Birth Names in the United States."
"Although higher status mothers of all races favor more popular birth names, high-status liberal mothers more often choose uncommon, culturally obscure birth names," the paper said. "Liberals also favor birth names with 'softer, feminine' sounds while conservatives favor names with 'harder, masculine' phonemes."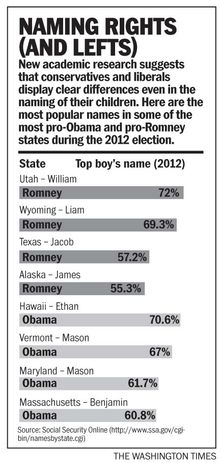 The study stops short of listing baby names as conservative or liberal, but does offer findings based on data derived from an examination of the 2004 California birth records, electoral precincts and the 2000 U.S. Census.
The authors devised a "Male Gender Score" for names, which reveals that "college-educated white mothers choose names with more feminine phonemes as their neighborhood becomes more liberal."
"For example, names like Kurt, Dirk, Rocco, Beau, and Gunner have high Male Gender Scores, while names like Liam, Leila, Ely, and Janelle have low Male Gender Scores," the study said.
While parents across the board are more likely to give unusual names to their daughters than their sons, liberal moms and dads are more likely to bestow their sons with uncommon names, such as Julian, while conservative parents lean toward popular or traditional monikers, such as Kyle.
The most popular name in red Utah was William and James was No. 1 in Alaska last year, according to the Social Security Administration; in blue Vermont, by contrast, Mason was the top boy's name, while Hawaiian parents most often chose Ethan.
"Irrespective of race, the percent of mothers choosing popular names generally decreases as the mother's neighborhood becomes more liberal, especially among residents of the most liberal neighborhoods," the report said. "For instance, popular names are chosen for boys among 42 percent of mothers in conservative neighborhoods but only among 35 percent of mothers in the most liberal neighborhoods."
The authors — Eric Oliver, Thomas Wood and Alexandra Bass — found other factors at work in the baby-naming decision, notably income, education and race. Unique baby names, defined as those that were given to no other children in California in 2004, were most likely to be found among black and Asian parents, while white and Hispanic parents were less likely to give their offspring one-of-a-kind names.
Unique names were also more common among mothers with less education living in low-income neighborhoods, no matter what their race.
The link between politics and baby names was strongest among white, college-educated mothers, the authors said.
"[A] college-educated white mother is twice as likely to give her child an uncommon name if she lives in one of the most liberal neighborhoods versus one of the most conservative ones," the study said.