The chairmen of the House and Senate intelligence committees on Sunday defended a recently disclosed government surveillance program as the whistleblower behind the bombshell leak about the program willingly revealed himself to the public and spoke proudly of his actions.
Rep. Mike Rogers, Michigan Republican, lamented criticism and said the "inflammatory nature of the comments" from people he says are not familiar with National Security Agency surveillance programs do not fit with what the programs do. Such opposition has prompted one of his Republican colleagues, Sen. Rand Paul of Kentucky, to say he was considering a class-action lawsuit over the issue.
"The National Security Agency does not listen to Americans' phone calls, and it is not reading Americans' emails," Mr. Rogers said. "None of these programs allow that."
---
SEE ALSO: GOP's Peter King: NSA leaker Edward Snowden must be extradited, prosecuted
---
Mr. Rogers and Sen. Dianne Feinstein, California Democrat, specified two declassified cases in which the agency's data-collecting techniques have been used to thwart or punish terrorist attacks — an unsuccessful 2009 plot to bomb New York City's subways and the case against an American who helped scout targets for a 2008 terrorist rampage in Mumbai.
Mrs. Feinstein and Mr. Rogers said the source who released the information regarding the operation, known as Prism, should be prosecuted. Reuters reported Saturday that the NSA has formally requested that the Department of Justice launch an investigation into the agency's leaks.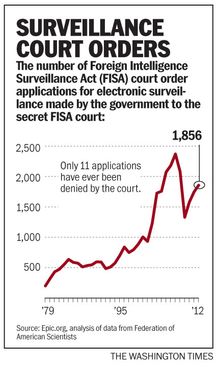 Justice Department spokeswoman Nanda Chitre said late Sunday that the government "is in the initial stages of an investigation into the unauthorized disclosure of classified information by an individual with authorized access," but declined to comment further "in order to protect the integrity of the investigation."
---
SEE ALSO: Glenn Beck, Michael Moore call NSA whistleblower Edward Snowden a hero
---
Leaker comes forth
Edward Snowden, a former technical assistant for the CIA who has worked at the NSA for a variety of companies, revealed himself as the whistleblower to The Guardian newspaper in an article published Sunday afternoon.
"I have no intention of hiding who I am because I know I have done nothing wrong," the 29-year-old employee for Booz Allen Hamilton told the left-leaning British paper. "I really want the focus to be on these documents and the debate which I hope this will trigger among citizens around the globe about what kind of world we want to live in.
"My sole motive is to inform the public as to that which is done in their name and that which is done against them," he said in an interview from Hong Kong. He said he is holed up in a hotel not far from a U.S. consulate.
Mr. Snowden said he is in Hong Kong because the former British colony, over which China now exercises sovereignty and controls foreign and security policy, has what he called "a spirited commitment to free speech and the right of political dissent."
However, China has a reputation for attacking U.S. cybersecurity and maintaining tight controls over Internet use by its populace. As the NSA revelations dominated news coverage over the weekend, cybersecurity played a role in President Obama's Friday-Saturday summit in California with Chinese President Xi Jinping.
Mr. Obama pushed Mr. Xi for more cooperation on the issue, but officials said there were no major breakthroughs. The Chinese leader even said China was a victim and not a principal cause of cyberhacking.
In a rare move, Director of National Intelligence James R. Clapper over the weekend distributed to the media information about the recently disclosed surveillance operation, saying he had declassified some details to dispel "myths" in news reports about the government program to monitor citizens' Internet activities.
Mr. Clapper said the surveillance activities are legal. He also said, as Mr. Obama did Friday, that the government has numerous checks and balances to protect against the invasion of privacy. He said Congress and the courts play roles in ensuring that civil liberties are protected.