VIERA, Fla. — The calls became so routine, so normal — and sometimes so necessary — that there was hardly a day that would go by without one.
Washington Nationals prospect Matt Skole on one end of the line, calling from some outpost in the South Atlantic or Carolina league. His younger brother Jake, a Texas Rangers prospect, on the other side in his own minor league locale.
Sometimes they'd talk about the game, sometimes they'd talk about life. Sometimes the conversations didn't last much longer than a few minutes. If one didn't bring up his performance at the plate, the other wouldn't ask about it. When one needed advice, or a tip, or a good story, the other was there to provide it.
"A lot of people don't know what the minor league life is like," Matt Skole said Monday morning, the start of his fourth week in major league camp with the Nationals. "A lot of people think you're making tons money and you're going to be playing [in the major leagues] like next year. Nobody knows [fully]. So it's good to talk to him. It's a long season and you have ups and downs."
Skole, 23, and his brother have learned how to use their unique situation to their benefit. While it's not entirely rare for two members of the same family to play professionally, it's not exactly commonplace, either.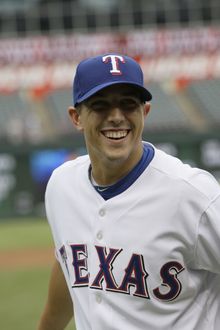 In the offseason, the brothers live together in Atlanta, "basically best friends," Matt said, describing a relationship that involves doing the majority of their daily activities together.
In the winter of 2011, they rented an apartment so they could be closer to where they work out, but following a 2012 season that featured Matt's ascension and adversity for Jake, they purchased a townhouse.
Matt joked that Jake, a first-round pick in 2010, "obviously has all the money, so that's why we're best friends." They live about 30 minutes from their parents, Mike and Lee, and their 13-year-old brother Mickey, an athlete in his own right, in Woodstock, Ga.
There was a time when Jake, who is two years younger, was hailed as a better talent than Matt. While Matt was an undergraduate student at Georgia Tech, Jake, a speedy outfielder, excelled in high school athletics. He committed to Georgia Tech to play football and baseball, but passed on that opportunity when the Rangers selected him with the 15th overall pick — their compensation for being unable to sign current Nationals lefty Matt Purke in 2009 — and gave him $1.56 million.
The Nationals scouted Jake before the draft but, like a lot of teams, were unsure if he would de-commit from Georgia Tech, and from football.
"He's one of the best athletes I've ever seen," Matt said of his brother. "It's no question in my mind he has the talent, the ability, to do everything."
Matt is drawing rave reviews of his own from the Nationals this spring and has firmly planted himself in the organization's future plans with his ability at third and first base.
But while Matt's stock has risen, Jake has struggled. He was suspended 50 games in June for testing positive for a performance-enhancing amphetamine.
Rangers general manager Jon Daniels told reporters he hoped the ban would help focus the 21-year-old. Matt, the Nationals' 2012 Minor League Player of the Year, tried to help his brother do so.
"I had a good first year so something clicked in my head. I took off running," Matt said. He hit .291 with 27 home runs and a .426 on-base percentage between low and high Single-A and did well in the Arizona Fall League.