As the poet said, "Sometimes you're the windshield, sometimes you're the bug."
Chinese WGM Ju Wenjun starred in both roles — in consecutive rounds — at the FIDE Women's World Teams Championship now wrapping up in Astana, Kazakhstan. The event has attracted the 10 strongest female squads in the world for a round-robin championship. Big losses to the Chinese and Georgians have left the American women on the outside looking in, although they did bounce back Sunday with a 2½-1½ upset of the powerful Russian women's team.
Playing first board for China, Ju in Round 4 helped end U.S. hopes of gold in Astana, beating former U.S. women's champion IM Anna Zatonskih in a fine attacking game to key a 3½-½ match victory. But a round later, it was Ju who found herself on the wrong end of a scintillating combination courtesy of Russian IM Valentina Gunina, although the Chinese women still managed to draw the overall match 2-2.
In a finely balanced English, Zatonskih as Black gets into trouble by failing to keepWhite's pieces out of her position with 16. Nh4 Rfe8?! (g6 was indicated) 17. Nf5 Bf8 18. Nd5! Rab8 (Bxd5?! 19. exd5 g6 20. d6! e4 21. Ne7+ Bxe7 22. dxe7 Rxe7 23. dxe4 c4 24. Qb4 and White is dominating) 19. axb5 axb5 20. Rdc1 Re6 21. Ra2 Ng4 22. Rca1 Nxe3 23. Nfxe3 Qc8 24. Ra7, and White has seized an alarming space advantage.
Ju uses that her greater maneuverability to nice effect with 27. Qd1! b4 28. Qf3, shifting her strongest piece to the kingside before Black has a chance to react.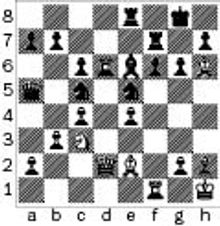 The payoff comes on 31. Rxa7 Re6 (Zatonskih parries one threat: 32. Nh6+! Kh8 [gxh6 33. Bxd7 Bxd7 34. Rxd7 Qxd7 35. Nf6+] 33. Qxf7 gxh6 34. Nf6 Bg7 35. Nxe8 and wins; but White has another arrow in the quiver) 32. Nxg7! Qb8 (both 32Bxg7 33. Bxe6 fxe6 34. Ne7+ and 32Kxg7 33. Bxe6 fxe6 34. Qf6+ [the Black knight is unfortunately pinned] Kg8 35. Qxe6+ Kh8 36. Nf6 Nxf6 37. Qxf6+ Kg8 38. Qf7+ win for White) 33. Nxe6 Qxa7, and now White could have sealed things with 34. Nxe7+! Kh8 (Bxe7 35. Qg4+ Bg5 36. Qxg5+ Kh8 36. Qg7 mate) 35. Qxf7 Nf6 36. Qxf8+ Ng8 37. Qxg8 mate.
But Ju's 34. Ng5 Ng8 35. Nf6+ Kg7 36. Ngxh7 Bd7 37. Bxd7 Nxd7 38. Qg4+ is good enough to force resignation, as 38Kh6 39. Qg5 is mate.
–
Ju found herself being "posterized" just a day later against Russian IM Valentina Gunina, although the Chinese women still managed a 2-2 draw in the match.
Black's Tartakover Modern Defense leaves her with a clunky-looking position, and White takes advantage with 12. 0-0 Nf7 13. Nh4 Bh6?! 14. Nf5!, when 14gxf5 15. exf5 Bxf5 16. Qxf5 Bxd2 17. Rxd2 Qe7 18. Rfd1 0-0-0 19. Bg4 leaves Gunina firmly in charge.
Why Black allows the center to open up with 16. f4 exf4?! (0-0-0 is begging to be played) is another head-scratcher, and the clotted nature of her pieces allows White to pull off a very pretty combination.
Thus: 24. Bh6! (setting up the play to come; White wants to play Rd8, but first must deflect the Black pieces guarding the square) Rf7 (see diagram; in light of the ensuing play, more dogged here might have been 24Nf7!? 25. Bxf8 Rxf8 26. Rd4 Ne5, though White remains much better) 25. b4!! Qxb4 26. Rd8 Rfe7 (Bd7 27. Rxe8+ Bxe8 28. Qd8 — showing the power of getting control of the d8-square) 27. Rxf6 Ncd7 (White was threatening the cute 28. Rf8+! Rxf8 29. Rxf8 mate, and 26Nf7 failed to 28. Nd5! Qxd2 29. Nxe7+ Kh8 30. Rxe8 mate) 28. Nd5!.
The White queen is immune as now her Black counterpart dare not lose sight of the rook on e7 — 28Qxd2?? (Qc5 29. Qa5! b5 30. Be3) 29. Nxe7+ Kh8 30. Rxe8+ Nf8 31. Rexf8+ Bg8 32. Rxg8 mate. But Ju's overworked queen winds up herself being trapped in the finale: 28Qa3 29. Qa5! Qd6 (Qxa5 30. Nxe7+ again wins) 30. c5!, and the embarrassed Black monarch has nowhere to go. Ju resigned as 30Qxd5 31. exd5 Nxf6 32. Rxe8+ Rxe8 33. dxe6 is hopeless.
–
The top four rated players in the world will top the field Friday as the FIDE Candidates Tournament gets under way in London. The eight-grandmaster double-round robin, which winds up April 1, will choose a challenger for Indian world champion Viswanathan Anand for a title match later this year. No Americans are in the field.