While some NFL teams spent tens of millions of dollars Tuesday in the frenetic hours after the NFL's annual free agency party began, the salary cap-strapped Washington Redskins lingered by the punch bowl and watched.
They did make two quiet moves to the dance floor — agreeing to re-sign veteran punter Sav Rocca, and re-signing reserve defensive end Kedric Golston — but one of their best free agents, Lorenzo Alexander, is about to get away.
Overall, coach Mike Shanahan lived up to his word. The Redskins mostly remained idle, limited by having only $3 million or so of salary cap space because of their $18 million cap penalty.
"We're not able to go out in free agency," Shanahan said Monday at a news conference. "We might be able to do it for one guy or two guys, depending on what the money is. But that's just the hand we were dealt and are dealing with."
The fallout includes losing Alexander, a Pro Bowl special teamer and co-captain. He expects to pick a new team Wednesday, he said in a text message Tuesday night. That was shortly after his agent, J.R. Rickert, tweeted Alexander's Twitter handle in a list under the heading: "New teams for clients."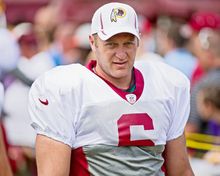 The Arizona Cardinals emerged as the leader in the competition for Alexander's services, according to a Fox Sports report, which cited an anonymous league source. Rickert did not return a phone message.
San Francisco and Pittsburgh also reportedly are contending to sign Alexander. Pittsburgh's new special teams coach Danny Smith was Washington's special teams coordinator for the past nine seasons.
Alexander has said he would re-sign with the Redskins if their offer was competitive with other teams. He has played for Washington since 2007 and has established deep roots in Northern Virginia.
Washington entered the new league year at 4 p.m. with some spending money after receiver Santana Moss agreed to restructure his contract. That saved the Redskins $2 million in salary cap space, CBS DC reported.
They didn't have enough money, however, to address any of their major needs with a top-tier player at the outset of free agency. That was in stark contrast to last March, when Washington signed receivers Pierre Garcon and Joshua Morgan and re-signed defensive end Adam Carriker in the first hour of free agency.
The Redskins might eventually benefit from a cornerback market loaded with big names. The Philadelphia Eagles decided to release Nnamdi Asomugha, and the Vikings released Antoine Winfield, according to reports. Those moves increased the supply of talent at a position Washington must address after releasing DeAngelo Hall on Monday.
Reports linked Hall to several teams, including the Detroit Lions, but he did not sign by evening.
The Redskins released him to save $8 million against the 2013 cap. Shanahan on Monday said he would consider re-signing Hall at the right price.
"I'm sure he's going to test out the market, and after he does, we'll see where he's at," Shanahan said. "But I want to be able to take care of the people that have taken care of us and at least give him a fair chance to take a look at what the market value is."
Before Moss restructured the final year of his contract, he was scheduled to count $6.2 million against the Redskins' penalty-reduced salary cap. Moss was not given an extension, and part of his $4.15 million base salary was converted to incentives — effectively a pay cut — The Washington Post reported.