"You know, I will dabble at the piano every now and then, but I didn't listen to my mother and I stopped practicing — which is what I now try to tell my kids: 'Don't stop practicing.'"
— Michelle Obama during her Google Plus Hangout session March 4.
Magazines going out of business isn't exactly big news these days, but this one hurts: Sheet Music Magazine informed its dwindling band of mostly aging subscribers this month that it is shutting down after nearly 3,000 songs and 36 years of putting out "the Magazine You Can Play." The fall 2012 issue marked the end.
In its heyday, the magazine boasted 150,000 paid subscribers who every two months (reduced to quarterly in the final years) would get a sampling of hits, "hidden gems" and golden oldies from the Great American Songbook, in arrangements pitched not to the professional but to the parlor-room amateur. Drawing on the vast back catalogs of publishers such as Warner Brothers, Big 3 Music and the Songwriters Guild, Sheet Music Magazine offered up a steady diet of Jerome Kern, Harry Warren, Johnny Mercer, Irving Berlin and Jerry Herman, along with a generous smattering of jazz, folk songs, and Irish, patriotic and Christmas music as the season warranted.
There were also tips for the aspiring piano player on tricky fingering patterns, exotic left-hand rhythms and useful "fills," "turns" and improvisation techniques, as well as more challenging settings of familiar songs by some of the country's top arrangers.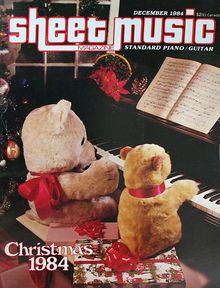 But founder and publisher Ed Shanaphy said Sheet Music Magazine couldn't survive a perfect storm of factors gathering in recent years, from a bad economy, falling piano sales and the rise of online downloading services for sheet music to the decline of a generation that played piano for fun and the rise of a generation that gets into music through earbuds and prefers its musical scores auto-translated into audio online.
"It's been a long downhill slide from the days when everyone had to have a piano in their house as a kind of middle-class badge of honor," said Stuart Isacoff, pianist, composer and author of the 2011 book "A Natural History of the Piano," in a phone interview.
"Very, very slowly we've been watching that music scene become smaller and smaller, to the point where you can't sustain even one piano magazine in the United States. I think it definitely says something about who we have become as a culture."
Mr. Shanaphy said in an interview that, in the end, Sheet Music Magazine "faced a steep rate of attrition because we were primarily serving a senior readership, one that appreciated the Great American Songbook. If you serve that demographic, you always need a new wave of readers coming in, and that just wasn't happening."
The raw numbers for the piano, to say nothing about the magazine industry, can make for depressing reading. In an age when American companies like Steinway and Baldwin were creating global brands, U.S. piano sales topped 360,000 in 1909. A century later, according to the Blue Book of Pianos, annual sales of pianos — vertical, grand and electric — was just over 62,000 — even though the population had nearly tripled.
The National Association of Music Merchants in November put out a survey that found new technologies such as YouTube videos, online lessons and music apps are sparking a minor rebound in interest among young people in trying out a musical instrument, but whether they will stick with the program is another matter. A recent Gallup poll reported that the first lady was in good company — 85 percent of Americans who do not play a musical industry say they wish they did.
Harvard sociologist Robert Putnam in "Bowling Alone," his celebrated 2000 book tracking the decline of American "social capital," cited the steadily declining number of Americans playing a musical instrument, the death of town bands and other social ways of "doing culture" in the last half-century as prime examples of rising modern anomie.
"We certainly have not lost our taste for listening to music, any more than for watching sports, but fewer and fewer of us play together," he wrote.
'80s music
Mr. Shanaphy said that changes in popular music also played a big role in Sheet Music Magazine's demise.