Shortly after liberal MSNBC host Ed Schultz announced he was leaving his prime-time slot, The New York Times revealed that Rachel Maddow's protege Chris Hayes will be taking his place.
Mr. Schultz has decided to move to weekends, while Mr. Hayes, 34, will take the spot as the youngest host with a prime-time cable news show in the country.
According to The New York Times, Mr. Hayes is a "liberal intellectual who has hosted a well-regarded weekend morning program on MSNBC for the past 18 months." Beginning April 1, his 8 p.m. slot will allow him to become the lead-in for Ms. Maddow's 9 p.m. program, "The Rachel Maddow Show," which is the highest-rated show on the station.
Mr. Schultz announced his decision to move at the end of his show Wednesday night, saying
"MSNBC will be expanding its weekend programming, and this opens a big opportunity for 'The Ed Show' and my brand."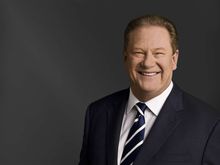 Politico confirmed the move Thursday, and MSNBC is expected to make a formal announcement later today.