VIERA, Fla. — The exact instances don't really stand out in his mind now, so many years later, but Denard Span can remember days when his mother, Wanda Wilson, was "just burnt out."
He remembers watching her collapse into a comfortable chair around 9 p.m. some nights and falling asleep in minutes. Or the Sunday evenings, after church, when Wilson would set Denard and his brother, Ray, up in one room and take a few minutes to relax alone in another.
Ten-plus-hour days at work, first as an insurance claims adjuster and then operating a day care center, could do that to a woman who was also busy raising two young boys.
"You do what you've got to do," Wilson said this week, while the children at her day care in the Tampa area napped. "You just learn how to adapt. You learn to do what you have to do, given certain circumstances and situations."
It was those moments that Span, the prize center fielder the Washington Nationals acquired from the Minnesota Twins in November, thought of most when he considered getting involved with a charity in Minnesota a few years ago.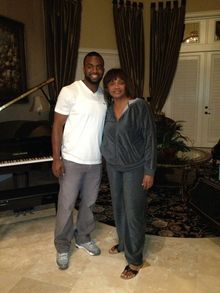 He chose the Jeremiah Program, a nonprofit that helps prepare "determined single mothers to succeed in the workforce, readies their children to succeed in school, and reduces the generational dependence on public assistance," according to its website. The program helps set up impoverished single mothers with opportunities to further themselves through education and job training, but also forces them to work toward their success.
"It just sounded perfect," Span said. "I wanted to do something I could relate to.
"My situation maybe wasn't as bad as theirs, but I saw my mom have to do a lot for myself and my brother."
The way Span describes his childhood, it's clear he views himself and his family as fortunate. His mother, who attended Federal City College (now the University of the District of Columbia), was educated, employed and had a good support system.
There was always a friend, or one of the boys' teachers, or another single parent, who could help bring them to baseball or football or basketball practice when she couldn't, and Wilson would return the favor by picking them up in the afternoon. Span said his father was around some, but "primarily we were with my mom 98.9 percent of the time."
This spring, as Span has acclimated himself to a new team for the first time in his career, he has called Wilson daily to update her. She made the drive from Tampa to Viera last weekend to visit and said it seemed like his teammates "are really, really excited to have him there." She cannot wait for Opening Day in Washington.
Span has spent most of his time and energy thus far on getting to know his new teammates and preparing for the season ahead. With Bryce Harper and Jayson Werth flanking him in the outfield, the process of learning to play together has been a primary focus this spring.
But Span doesn't want too much time to go by before he finds a similar charity in the D.C. area.
Span worked with the Jeremiah Project by getting to know the children and their mothers, and he also made a financial contribution.
In 2010, then-teammate Orlando Hudson held a bowling tournament in the Minneapolis area, with all of the proceeds going to a charity of his choice. In 2011 and 2012, Span took over the tournament and donated the proceeds to the Jeremiah Project. The Twins twice gave him an award for his charitable endeavors, which also included work with the Reviving Baseball in Inner Cities program.