Hackers hit South Korea's top banks and TV broadcasters Wednesday in a sophisticated online attack that crashed computer networks, knocked bank websites offline and shut down ATMs for several hours — prompting widespread speculation that North Korea had launched a cyberattack.
Although ATMs were back online within a few hours and none of the broadcasters was knocked off the air, the attack highlights the vulnerability of computer networks — and the ability of attackers to strike anonymously and without warning.
Analysts noted that U.S. banks use security technology similar to that employed by their South Korean counterparts, and described the attack as a warning to the American banking industry.
Wednesday's cyberattack, the largest against South Korea in at least two years, came amid rising tensions on the Korean Peninsula and just days after North Korea had accused the United States and its South Korean allies of knocking several of Pyongyang's websites offline last week.
North Korean leaders have ratcheted up their bellicose rhetoric recently. On March 11, Pyongyang said it had scrapped the cease-fire that halted fighting in the Korean War in 1953, though the two sides technically remain in a state of hostilities. However, the U.N. said that neither side can unilaterally end the truce.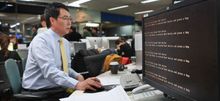 Although the finger of suspicion pointed almost automatically at Pyongyang, one computer security specialist said there are clues in the malicious software, or "malware," that point elsewhere.
"The attack probably originates in China," said Jaromir Horejsi, a security specialist with the software company Avast, based in Prague. He cited Chinese terms used in the coding and the location of servers from which the malicious software downloaded instructions.
But clever hackers can leave so-called "false flag" indicators in coding and employ third-party computer systems to misdirect suspicion.
Jamie Blasco of the computer security firm Alien Vault in San Mateo, Calif., said the malware was designed to overwrite the so-called Master Boot Record of the computers that it infected — meaning the computers would not be able to restart and all the data on them would be wiped from their memory.
Employees at the affected broadcasters reported that their computer screens went blank and could not be reactivated, according to the BBC.
At least two of the affected banks reported that their networks were restored by the end of Wednesday. It was not clear whether the networks were restored because the computer memories had not been wiped or because technicians had replaced computers whose memories had been wiped.
"The attacks are a warning signal for the financial services industry here in the United States," Ira Victor, a digital forensic analyst with Data Clone Labs, told The Washington Times.
"Many [U.S.] banks use the same technologies and strategic approach to data security" as the South Korean ones that had been attacked, he said. "This is like trying to fight today's war with yesterday's weapons: it is destined to fail almost every time."
Al Pascual, an analyst with Javelin Strategy & Research, told American Banker magazine: "The issue with the South Korean bank hack that should really grab everyone's attention is that complete bank networks were infected, which resulted in outages of online banking portals, ATMs and internal bank systems."
A similar attack on U.S. banks "would have a deleterious effect on consumer confidence as it would limit customer access to account functions online, while also keeping them from withdrawing their funds as cash," Mr. Pascual said.