President Obama said in Israel on Wednesday that he is "deeply skeptical" of reports that Syrian opposition rebels have used chemical weapons, and he pledged that the United States will investigate before taking any possible action.
"We intend to investigate thoroughly exactly what happened," Mr. Obama said at a joint news conference with Israeli Prime Minister Benjamin Netanyahu. "We have to gather the facts."
Rep. Mike Rogers, chairman of the House Permanent Select Committee on Intelligence, said it's high time for America to get involved in Syria.
---
SEE ALSO: House lawmakers split over U.S. involvement in Syria
---
"This is the time to act," Mr. Rogers, Michigan Republican, said on "CBS This Morning." "Don't wait until we have 5,000 dead."
Mr. Rogers made the remarks on the heels of Syrian regime claims that rebel fighters used chemical weapons in Aleppo. The White House has called the use of chemical warfare a last straw that would rally the United States to stronger action in Syria.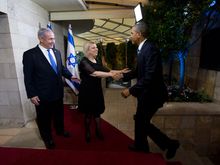 Mr. Obama cautioned that Syria is a war zone and that finding out what really happened will be difficult. Asked why he hasn't taken stronger steps in the past two years to stop the killing, Mr. Obama said the U.S. will "continue to work in an international framework" to end the regime of President Bashar Assad.
"We will continue to push every lever that we have," Mr. Obama said. "This is not easy."