The District's $220 million state-of-the-art forensics laboratory opened in October with great fanfare, even garnering "special mention" in R&D Magazine's 47th annual "Laboratory of the Year Awards."
But photographs of the lab's evidence room obtained by The Washington Times and a widely distributed email exchange between the commanding officer of its Crime Scene Investigations Division and his employees paint a different picture.
While the correspondence depicts a labor dispute with management, details disclosed by both sides — and graphic images — suggest a key element of the Consolidated Forensics Laboratory falls short of its hype.
The Times first reported in February on concerns by CSID officers of staff shortages, lack of basic resources and stalled labor negotiations that law enforcement veterans say threaten the unit's operations. Shortly after the story, D.C. Council member Tommy Wells, Ward 6 Democrat and chairman of the Committee on the Judiciary and Public Safety, publicly questioned Max M. Houck, director of the Department of Forensic Sciences, and Metropolitan Police Department Chief Cathy L. Lanier about the news report and was assured the lab was on track to obtain accredited status to match its "state-of-the-art" billing.
There is no doubt the gleaming, green-glass panels on the massive new building in Southwest D.C. make a strong first impression. Yet veteran investigators and independent analysts who reviewed the photographs and emails said conditions inside critical areas of CSID — where the city's most heinous crimes get solved — were "unacceptable."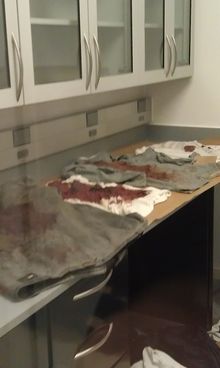 Raymond J. Davis, a former forensic toxicologist with the California Department of Justice with 38 years' experience, said he was appalled by images of bloody clothes drying in the open on sheets of paper placed on floors and countertops. Photos of unpacked boxes, flammable chemicals stored in glass jugs crammed into a sink, understocked shelves where processing chemicals usually are stored and general clutter prompted this observation: "A defense attorney would have a field day with this if they walked into the evidence vault. It looks exactly like the storage area in my garage."
The Times delivered copies of the photos and emails to Mayor Vincent C. Gray, Mr. Houck, Chief Lanier, the U.S. attorney's office, Mr. Wells and D.C. Council Chairman Phil Mendelson.
Mr. Wells said he toured the facility but did not want to substitute his judgment for that of the specialists.
In an email, Mr. Houck challenged the authenticity of the photos and declined to comment on the emails. He did not respond to questions about evidence preservation, but said police officers who work in CSID should report dangerous conditions to the Department of Forensic Sciences safety officer, and that no such reports had been filed in more than a month.
He also pointed to a clean inspection in early March by the Office of Risk Management and the Department of the Environment — both of which occurred after The Times article and the Wells hearing. Multiple photographs of identical areas of CSID suggest a major cleanup effort occurred before those inspections.
The Department of Forensic Sciences "takes safety and health issues seriously and we will continue to review the information provided," Mr. Houck wrote.
Neither Chief Lanier nor Mr. Mendelson responded to questions for comment.
"The U.S. Attorney's Office has no comment at this time," a spokesman said in an email.
In addition to the photos, a Feb. 27 email to Cmdr. Keith L. Williams, who heads CSID, Officer Martin Fosso asks, "Is anyone else in the unit concerned about the ongoing, non-functionality of the blood-drying room?" He was referring to a deficient system for cleaning blood-drying cabinets, which are used to process clothing so an evidence sample can be lifted.
"No running water hookups to hose down the interior of the cabinets four months on and running," he added.