The Maryland Senate this week will consider a House-approved proposal to raise the state's tax on gasoline, even as states such as Virginia have recently questioned the long-term value of tying transportation funding to fuel consumption.
House lawmakers gave their final approval on Friday to a bill that would institute a new sales tax on gas at the wholesale level, which state analysts say would generate about $830 million a year to finance roads and transit infrastructure.
The bill would mean motorists could expect to pay 13 to 20 cents more for a gallon of gas by the time it is fully implemented in 2016. The sales tax on gasoline would amount to about 4 cents a gallon beginning in July, another 8 cents by July 2015 and possibly as much as 8 additional cents by July 2016. The increases together would nearly double current taxes on gasoline, unless Congress passes an Internet sales tax measure that would provide another revenue source for transportation.
Maryland's strategy differs from the one employed in Virginia, where lawmakers last month approved a transportation plan that will generate most of its $880 million annually from an increase in the general sales tax on virtually all items — a move that proponents say will ensure that wealthier residents pay more and will shield the state from declining fuel consumption as vehicles grow more efficient.
All 50 states have gas taxes, which provide about 40 percent of highway funds — but many are scrambling in the face of a fiscal squeeze: With modern cars getting more miles per gallon and Americans on average driving 6 percent less miles per year than they did a decade ago (23 percent less for drivers younger than 35), the traditional tax on gas at the pump isn't bringing in what it once did, even as the nation's infrastructure bills increase.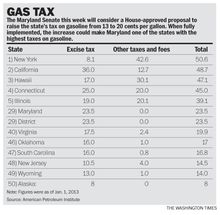 Governors in Michigan, Massachusetts and New Hampshire this year have all proposed gas tax increases. A bipartisan compromise in Virginia resulted in a plan to replace the state's 17.5 cents-per-gallon gas tax with the sales tax increase, as well as a new 3.5 percent tax on gas at the wholesale level, some other auto-related fees and regional sales tax increase.
Some officials in Maryland say their plan works better because it acts as a user tax on those who use roads most, but transportation advocates worry that the plan will push gas prices higher and anger drivers.
"Motorists will shoulder all of the weight for the gas tax even though Maryland spends twice as much on mass transit as on roads," said John B. Townsend II, spokesman for AAA Mid-Atlantic. "This tax picks winners and losers."
Maryland Gov. Martin O'Malley has looked in recent years to raise funding for transportation, citing diminishing returns from the state's 23.5-cents-a-gallon gas tax, which has gone unchanged since 1992.
Mr. O'Malley, a Democrat, has joined many Democrats in saying it isn't enough to raise the per-gallon tax and that an index is needed to keep revenues in line with inflation.
A percentage sales tax on gas would accomplish that goal, but it still leaves open the possibility of diminishing returns with the rise of fuel-efficient vehicles and alternative fuels, said Neil Bergsman, director of the Maryland Budget and Tax Policy Institute.
However, Mr. Bergsman said he thinks any such issues are years down the road and that Maryland can afford to rely on gas-tax revenue in the short term.
"It's not a big problem yet," he said. "The next time we need an infusion of transportation money they'll need to do something different, but the right thing now is to rely on the gas tax one more time."
Mr. Bergsman also defended the decision in Maryland not to tie transportation funds to the general sales tax, arguing that the transportation funding burden on residents should be in line with their road usage.
Opponents of a higher gas tax have argued that it is likely to get more money from low-income drivers with long commutes than wealthier residents who use their cars less often.