Retired Air Force Col. Martha McSally, who logged more than 300 combat flying hours, today is recalling how she took part in the Pentagon's last gender revolution, as the U.S. military prepares to open a new frontier for women — direct ground combat.
The winter of 1993: Col. McSally and fewer than a dozen other young female officers got calls from the Air Force telling them a 45-year ban on women flying fighter jets and bombers was ending. They had been picked to be pioneers if they wanted to try to show they had the right stuff.
"Am I interested?" she recalls saying. "I'm flying T-37s [trainers] in Del Rio, Texas. What do you think? Of course I'm interested."
Col. McSally would embark on a long flying career on the A-10 Warthog, an armor-plated aerial "tank" built to withstand peppering ground fire as it flies low to protect the backs of land combatants.
Now she is offering advice to women's advocates and the Pentagon on how best to integrate women into the all-male world of ground combat — infantry, armor and special forces operations. The military services have until May 15 to tell Defense Secretary Chuck Hagel how they plan to open these new roles, or keep some closed.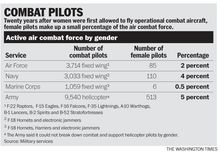 Col. McSally says there are lessons from her experience and from the way then-Defense Secretary Robert M. Gates prepared the entire force, unit by unit, in 2011 for openly gay service members.
"It seems like they went to an extraordinary amount of effort to make sure the climate was created. They didn't do that when they threw us into fighters," she told The Washington Times. "They just sort of said, 'I hope this works out for you.'"
It will be 20 years ago on April 28 that then-Defense Secretary Les Aspin first authorized female combat pilots.
The change in policy allowing men and women to fly in the same combat wings endured some turbulence over allegations of favoritism but now is a mostly seamless part of training and war.
"Combat skills are blind to rank, gender, race, color or creed," retired Air Force Lt. Gen. David Deptula, a fighter pilot by training, told The Times. "They are based on performance, pure and simple."
Gen. Deptula recalled: "During a major air combat training exercise, one of the opposing force flight leaders was a lieutenant colonel squadron commander who was very vocal that he did not like the idea of women fighter pilots. Subsequently in the exercise, he was 'shot down' by a young female lieutenant who was in my group."
Women constitute a distinct minority among air combat pilots, according to statistics provided by the armed services to The Times.
Numbering 85, female pilots make up 2 percent of the Air Force's 3,714 fighter and bomber jocks at the rank of lieutenant colonel and below. Women account for less than 1 percent of the Marine Corps' fixed-wing pilots and about 4 percent of Navy F-18 Hornet and radar-jamming jet pilots.
The Army has 513 female helicopter pilots, but the service could not provide a breakdown of support and combat pilots.
When asked why so few female officers have become combat pilots, representatives of the armed services and Pentagon top brass declined to comment.