Actor Jake McClain to tweet every word of Obamacare
Actor and director Jake McClain tweeted Friday that he will tweet every word of the 906-page "Obamacare" health reform law.
"Folks … this will probably take a long time to do, but I decided I will read every page, word by word, of Obamacare, and tweet every word," he posted March 22.
Mr. McClain has already tweeted the first 22 pages of the legislation, International Business Times reports. Each tweet is restricted to 140 characters or less.
The small-time actor's goal is to draw attention to the bill's contents, which were not read by most members Congress. He said he hopes he can use his platform as a means to draw attention to the controversial parts of the law, IBT reports.
"Thing is that this is for everyone … A scant few read this sucker. If numbers read it, the story changes," he tweeted Monday night, adding: "And if we keep reading and tweeting these pages, we can get enough people to hit their senators up on this thing."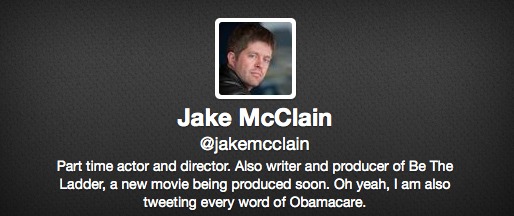 © Copyright 2014 The Washington Times, LLC. Click here for reprint permission.
About the Author
Jessica Chasmar is a continuous news writer for The Washington Times. Previously, she was part of the start-up team for The Washington Times' digital aggregation product, Times247. She can be reached at jchasmar@washingtontimes.com.
Latest Stories
Latest Blog Entries