Three pairs of blue-and-white balloons fluttered outside Suite 115 in Ashburn's Goose Creek Village retail plaza on Saturday morning, Nov. 19, 2011. If it's possible to pump helium into someone's pride, commitment and hope, there it was, a charming welcome to the celebration inside.
Kedric Golston and Lorenzo Alexander greeted their patrons in the lobby. The Black Eyed Peas' pop hit "Just Can't Get Enough" bumped from stereo speakers. Women, children and a few men wandered through a series of rooms. They explored six exercise machines and a set of strength bands suspended from the ceiling. Three women and a girl practiced an eight-step dance in the large studio in back.
"It looks nice," Golston said. "What do you think?"
It truly did. Black-and-white signs on the walls of the narrow hallway made the space look sleek. "THIS IS YOUR LIFE. FIND A PASSION AND PURSUE IT," read one. "LIFE IS EITHER A DARING ADVENTURE OR NOTHING," read another.
Golston, a defensive lineman for the Washington Redskins since 2006, took up Pilates five years ago in order to strengthen his hip flexors. He developed an affinity so deep that it led him and Alexander, his Redskins teammate, to the front of Suite 115 that morning. Their adventure had begun.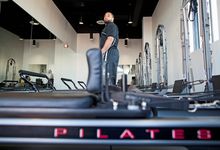 A day before the Redskins hosted the rival Dallas Cowboys, the two owners donned matching black golf shirts and hosted the grand opening of The Studio MBS.
They are one of several pairs of NFL teammates or former teammates who have ventured together into the business world. Some players pursue it as a hobby. Others hope to maximize their celebrity and disposable income to start building for their lives after football.
They're ambitious, with diverse interests, eager to prove there is substance underneath the helmet. Elements of football success — trust, teamwork, patience and dedication — guide their efforts.
"Playing in the NFL," Alexander said, "helps you get a head start on the rest of your life."
The Studio MBS (mind.body.soul) in its nearly 16 months has evolved beyond an initial vision for a Pilates and dance studio, as Golston's and Alexander's families have met the challenges typical of a small business startup. On the plodding journey toward their business goals, learning experiences have enriched their lives and their families' friendship.
"Without the relationships, we have nothing," Golston said. "Money will come and go, but the relationship is the most important thing. There's so much value in that over anything else."
'A fuller life'
It was a scorching 57 degrees in Ashwaubenon, Wis., this past November when Packers kicker Mason Crosby and receiver Jordy Nelson launched their new business in the Green Bay suburb.
Crosby was confident that even after the tundra froze, there would be demand for frozen yogurt.
"We're hard core up here," he said later.