The alarm blares at an hour many would consider ungodly, and the 20-year-old who rewrote the major league record books as a teen pulls his 6-foot-2-inch frame out of bed. The numbers on the clock stare at him: 4:30 a.m.
Breakfast and at least two hours in the gym await. Often, it's far longer. Running, lifting, agility drills. Twenty-seven exercises — nine workouts, three sets of each — packed into a fast-paced session with little room for breaks.
This is Bryce Harper's sanctuary.
"It really just lets me release," said Harper, taking a break from tearing through spring training in preparation for a 2013 season that starts Monday in the Washington Nationals' Opening Day matinee against the Miami Marlins.
"It's fun for me," he said. "I love it. It gets me away from everything. Throw my headphones on and just go. It's like I'm away from the world and I'm just me."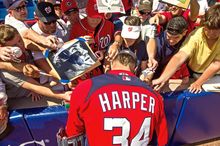 Inside the gym, there are no autograph seekers and no media. No watchdogs waiting for Harper to make a wrong move to broadcast on Twitter or YouTube. No one who wants a piece of him or his time.
It's just Harper and the weights — and sometimes his father, Ron, a retired ironworker, who does the workouts alongside him.
"It gets me away from being the baseball guy. Being the guy with the fans, to the people," Harper said. "Don't get me wrong, I love that. But I need the other side."
Embracing the stardom
Most of the offseason was a whirlwind for Harper, with only about a month that was empty of obligations.
On those days he played with his dogs, Swag and Harley, enjoyed his mother Sheri's cooking and spent time hanging out at home in Las Vegas with the friends and family he's away from most of the year. The entire Harper clan went on a cruise to Hawaii in December.
Otherwise, it was a dizzying schedule.
"I don't want everybody to just see the baseball side of me," Harper said, embracing the stardom that brings screaming fans (young, old, male, female) to every ballpark.
"I want everybody to see the other side of me, too — that I can be on a magazine with jeans and a T-shirt on and my hair done and things like that. I don't want just me in my baseball hat all the time just the boring, old, 'Look it's Bryce Harper with eye black on again.' I like people seeing the other side."
Between the final pitch of the 2012 season and the first pitch of 2013, Harper was on the cover of two national magazines — Sports Illustrated, in a photo shot on the Mall in Washington on a freezing January morning, and Men's Health, which he did with Los Angeles Angels of Anaheim phenom Mike Trout and Buster Posey of the World Series champion San Francisco Giants.