Sitting out his fifth straight game, Braden Holtby sat in the visitors locker room at Air Canada Centre in Toronto and brushed off concern like a shot from 40 feet out he saw all the way. The Washington Capitals goaltender didn't sweat 10 goals allowed in two games or his .863 save percentage.
That's because Holtby remembered what happened when he was with the Hershey Bears of the American Hockey League only a few months earlier.
"It's funny the similarities with the start of our season here with the start in Hershey," Holtby said. "Teamwise, I think we gave up eight goals or something in our [third] game in Hershey. … That's just what happens. So I guess that's life."
That was Jan. 31 and Holtby wasn't worried. Even a week later, after the 23-year-old gave up nine goals over two games against the Pittsburgh Penguins, his confidence wasn't shaken.
"When everybody was criticizing the goaltending and obviously the penalties we were taking, you'd talk to Braden and he couldn't have been more confident," associate goaltending coach Olie Kolzig said. "He knew where his game was at."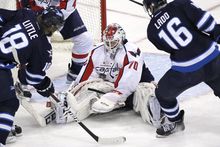 Where Holtby's game is at now seems to be peak performance. He has three shutouts in his past nine straight starts, going 6-3 with a 2.11 goals-against average and .934 save percentage in that time.
But thanks to his Hershey experience, Holtby has some perspective about recent success that has as much to do with the Caps' growth in coach Adam Oates' system as it does his own play.
"You know what you sign up for as a goalie: You usually get too much credit for wins and too much criticism for losses," he said. "You get used to it after awhile."
Holtby won't play into the idea that he's making more big saves than he was in his first two turbulent starts, a 6-3 defeat at Tampa Bay and 4-2 loss to Winnipeg. Sure, there were some goals he'd want back, Kolzig said, but the statistics were more indicative of team struggles than Holtby's.
"He was getting victimized in certain situations," Kolzig said. "But now because of his belief and the way the guys are playing now, all that stuff earlier has kind of rolled off his back."
The same thing happened with the Bears, and it was an even longer process. In Holtby's first 11 AHL appearances this season, he had a 2.71 goals-against average and .924 save percentage; in his final 11, he had a 1.45 GAA and .951 save percentage.
"We were getting outshot 2-to-1 in the first month in that system," Holtby said. "Then we turned it around and it was the exact same thing. We were playing in their end most of the time and getting most of the chances."
It's going to take more than one 6-3 stretch to turn the Caps' fortunes around, from the goal line out. But all indications are that Oates will give Holtby every opportunity to carry the load in net, continuing Tuesday night against the Boston Bruins.
"I really like the fire that he has. It looks he wants to play every single night, it looks like he wants that responsibility," Oates said. "That's a good feeling to see a guy that even when it hasn't gone his way, it looks like he still wants to be there."
Part of it might be psychological. Holtby, to use a term defenseman John Carlson coined after last week's 3-0 thrashing of the Carolina Hurricanes, doesn't go "shutout-hunting." He breaks games down methodically into three sets and each one of those into five-minute segments.