President Obama's decision Tuesday to show lawmakers secret legal documents justifying the use of drones to kill suspected terror leaders won new support for his top counterterrorism adviser to be become the next CIA director.
Two Democrats and one Republican on the Senate intelligence committee said that thanks to Mr. Obama's move, they will support John O. Brennan's nomination to lead the nation's chief spy agency.
"We appreciate that the executive branch has provided us with the documents needed to consider this nomination," said Sens. Ron Wyden, Oregon Democrat, Mark Udall, Colorado Democrat, and Susan Collins, Maine Republican, in a joint statement. "We anticipate supporting the nomination of John Brennan to be Director of the CIA."
The statement came as the intelligence committee convened a private meeting on Tuesday afternoon to consider Mr. Brennan's nomination.
The confirmation process has been slowed by questions from both sides of the aisle about the use of remotely piloted drone aircraft to kill suspected al Qaeda leaders, including Americans.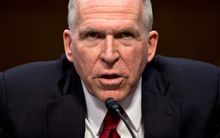 But with Mr. Wyden, Mr. Udall and Mrs. Collins now on board, it appeared likely the committee would vote to support the nomination.
Reports earlier on Tuesday said Democratic Senate Majority Leader Harry Reid of Nevada would press for a full floor vote on the nomination as soon as this week.
Several Republican senators who are not members of the committee have said they will try to block Mr. Brennan's nomination in order to force the administration to answer more questions about last year's Sept. 11 terror attack on the U.S. diplomatic post in Benghazi, Libya.
Sens. John McCain of Arizona, Lindsay Graham of South Carolina and Kelly Ayotte of New Hampshire on Monday published a list of ten "Things we don't know" about the attack, which killed four Americans.
It remains to be seen whether those senators will be won over by the White House's release of documents.
In their statement announcing support for Mr. Brennan, the three senators on the intelligence committee said they were "pleased that we now have the access that we have long sought and need to conduct the vigilant oversight with which the [Intelligence] committee has been charged."
"We believe that this sets an important precedent for applying our American system of checks and balances to the challenges of 21st century warfare," the senators said. "We look forward to reviewing and discussing these documents in the days ahead."
They added that "the appropriate next step should be to bring the American people into this debate and for Congress to consider ways to ensure that the president's sweeping authorities are subject to appropriate limitations, oversight, and safeguards."