VIERA, Fla. — Cole Kimball's summation of a year away from the sport he plays for a living is short and to the point. No wasted words with this man.
"It stinks. It is terrible," Kimball, a right-handed pitcher, said in the Washington Nationals spring clubhouse as he prepared to get in some work. "Missing a year of baseball, I wouldn't wish that on anybody. It is awful."
Sitting a few feet away on the opposite side of the clubhouse was a brother-in-arms when it comes to that point of view. Chris Marrero, a first baseman, also had to sit out a year and said he was "bummed" that he wasn't a part of the Nationals' run to the playoffs in 2012.
Compounding the problem for Kimball and Marrero is the fact that the Nats made that big leap forward last season while the two were tethered in place by their respective rehabilitation programs. The baseball world doesn't stop when you do. While Kimball and Marrero feel like they're back to where they were pre-injury, the Nationals have moved to another level.
The reality is Kimball and Marrero, while a part of the Nats this spring, are probably on the outside looking in when the season starts April 1.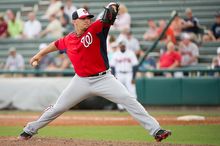 "Odds are," Kimball said, "I'm probably not going to start in the big leagues. You can't go to Triple-A and be bitter. I can't control that. This team is loaded. Loaded. I feel like I've been pitching on the same level as all the guys in the bullpen. It's a matter of circumstance. I have to go out there wherever I am and pitch to try and help the team I'm on win."
Kimball, 27, was the Nats' 12th-round selection in the 2006 draft. He finally made it to the majors in 2011 when the team recalled him in May.
His shoulder had been sore for a while, but Kimball kept quiet. He figured it was tendinitis. How serious could it be? He was pitching well. He earned a recall. He had a 1-0 record and 1.93 earned run average in 14 innings with the major-league team.
The last of those appearances was June 9. Kimball, it turned out, had a torn rotator cuff. The required surgery kept him out a year, limiting him to some minor-league rehab assignments last season.
"Right now, I am 100 percent," said Kimball, who pitched to a 4.50 ERA through his first four spring innings. "It really is like I never had surgery before. It feels amazing just to be able to go out and throw as hard as I can and not be sore. It's a very good feeling."
Though Christian Garcia's forearm injury may open a spot in the bullpen, it will likely go to a left-hander. Right-handers Craig Stammen and Ryan Mattheus established themselves as reliable bullpen arms while Kimball was out.
Hindsight, wonderful tool that it is, tells Kimball maybe he should have spoken up sooner, though if the rotator cuff was already torn it wouldn't have saved him much time.
"My mindset was I'd never really hurt my arm before, so I didn't know what it was. What was I going to say?" he said. "I thought it was just tendinitis or something. If I'd known it was something serious, I would have said something. I didn't know that it was. I was pitching good. What was I going to do?"
Marrero didn't have such a dilemma. A torn hamstring doesn't provide the option of being able to play. That's the injury Marrero suffered while playing winter ball after a decent start to his major-league career at the end of 2011. It wasn't his first serious injury. He broke a leg in 2008 while playing at Single-A Potomac.
"I can't really change it. The only thing I can do is see it as another bump in the road," he said. "It has happened before and I've overcome it. So there's no reason I can't overcome this one."