HARGEISA, Somaliland — The world's most famous prehistoric art is in caverns in Europe, but the most recently discovered ancient cave paintings are in a country no other nation recognizes in a region of Africa associated mostly with terrorism, pirates and famine.
The Laas Geel cave paintings in Somaliland in the Horn of Africa are not as old or famous as the art in France's Lascaux or Spain's Altamira caves, but the quality is just as good, archaeologists say.
Unlike the European caves, however, Laas Geel has no chance of international protection as a site on the UNESCO World Heritage List because of the region's complicated diplomatic situation.
Somaliland declared its independence more than 20 years ago and has been building a democracy ever since. But the world still recognizes the region as part of Somalia, which has spent the past two decades in chaos without a functioning government.
Somalia, which restored a government just last year, has not signed the UNESCO World Heritage treaty, so the caves in Somaliland cannot receive U.N. protection.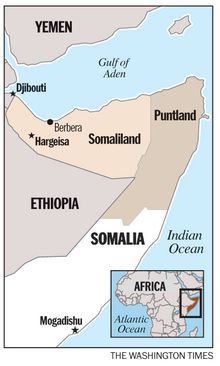 "We definitely need a heritage protection support," said Somaliland Foreign Minister Mohamed A. Omar.
"These are a very old and historically and scientifically very important asset which has a global significance. Any help in protecting this is much appreciated by the Somaliland government."
A French archaeological team discovered the isolated Laas Geel caves in 2002. Guided by villagers whose ancestors had known about the caverns for generations, they found the vibrant paintings in pristine condition.
The dry climate has helped preserve the ancient rock art, depicting nomadic life more than 5,000 years ago.
The Laas Geel caves are in 10 areas of a large granitic outcrop about 37 miles north of Somaliland's capital, Hargeisa, and can reached by the road to the port city of Berbera. The caves sit near a dry riverbed 3 miles off the main road. Traversing the unmarked rutty trail requires a four-wheel-drive vehicle.
The outcrops appear ordinary until a close examination of the shallow enclosed areas near the upper reaches.
French archaeologists say the Laas Geel cave paintings are at least 5,000 years old and possibly twice that age.
Some of the paintings show the indigenous nomadic people worshipping cows. Other scenes show giraffes, dogs, antelopes, camels and other animals. In the Somali language, Laas Geel means "where the camels once watered."
The cave art is reportedly among the oldest found in Africa. Many visitors say this incredible archaeological find deserves to be designated as a UNESCO World Heritage site, despite the diplomatic problems.
With good highway signs, better vehicular access and an improved visitor center, this precious repository of ancient rock art could become a major tourist attraction and economic boost to Somaliland.