The word "vintage" is thrown around a lot in describing the Washington Capitals. When Alex Ovechkin, Nicklas Backstrom and Mike Green lit up opponents in the final two months of the regular season, it began to look an awful lot like the glory days of the Rock the Red-era Caps.
After a victory over Tampa Bay late in the regular season that included two goals by Ovechkin, Backstrom was asked if it felt like the "good old days" when the franchise cornerstones powered a high-scoring team.
"It doesn't matter if it feels that way," Backstrom said. "It depends how it is in the playoffs. And we weren't that successful in the playoffs in the past."
---
SEE ALSO: Washington Capitals' playoff letdowns, year by year
---
In other words, don't party like it's 2009 or 2010. Those years brought records for offensive production and sellout crowds at Verizon Center.
But they never included a championship or even a trip to the Eastern Conference finals.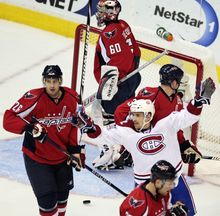 "Good old days? We didn't do anything," Backstrom said. "They weren't that good. … Obviously we showed that we can be good in the regular season, but we haven't shown anything else."
That's the task for the 2013 Caps: to forge an identity as a playoff team where so many previous incarnations failed. It's as much forgetting the recent past as it is learning from it, because time is running out before these players get branded as regular-season performers who can't get it done in the postseason.
"When you're in the playoffs you've got to play your best hockey," Backstrom said. "That's something we haven't done."
Making it look easy
Once Bruce Boudreau's Caps got past their brief Cinderella period in 2007-08 that required an 11-1 run to make the playoffs and win the Southeast Division, expectations began to mount. Ovechkin was running away with NHL trophies, as Backstrom, Green, Brooks Laich and Alexander Semin quickly moved into their primes.
Times were good in 2008-09 and 2009-10, the latter season including the Presidents' Trophy and a franchise-record 121 points. The 2009-10 Caps led the league with 318 goals but allowed 233. They peaked as part of a 14-game winning streak and never seemed to be out of a game.
"We were obviously a great regular-season team and it was great the way were scoring," right wing Eric Fehr said. "We felt like the game was easy for us back then."
It was easy until the playoffs. The Caps went seven games before losing in the second round to the Pittsburgh Penguins in 2009 and then were upset by the eighth-seeded Montreal Canadiens in 2010.
"This league's not easy; you have to have the right bounces, the right timing," Green said. "Things have to go your way a little bit."
Boudreau can recall specific moments that didn't go his team's way. When injured defenseman Shaone Morrisonn couldn't complete a shift in overtime of Game 5 vs. Pittsburgh, the Caps threw forward Sergei Fedorov back on defense and the Penguins scored. Washington went 1 for 33 on the power play against Montreal, and Boudreau blames himself for letting a travel delay affect his practice schedule that series, too.